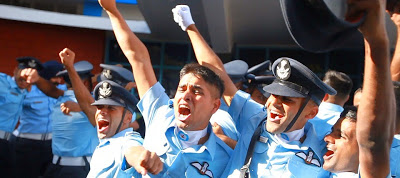 Indian Air Force has conducted the AFCAT 02/2012 exam on 26th of August this year. After few delays in the server of IAF, results were first announced on 27th September 2012. Later on IAF has cancelled the results of shortlisted candidates published by it on 30th September 2012. After few days, a fresh and final results of AFCAT was released.
To increase the parity, Indian Air Force has released the complete marks details scored by the AFCAT aspirants of 02/2012 today. So now all the aspirants can check their performance in the written test. These results are a welcome change from the side of Indian Air Force as they have faced a lot of troubles in making online selection of SSB interview centers and dates.
Following are the categorized score card of AFCAT 02/2012 announced by Indian Air Force officially. So go on and check out your results to introspect your performance and you can plan accordingly for bright future.
Marks Scored AFCAT No 100000 to 120000
(14411KB,
)
Marks Scored AFCAT No 120001 to 140000
(14465KB,
)
Marks Scored AFCAT No 140001 to 160000
(14518KB,
)
Marks Scored AFCAT No 160001 to 180000
(14527KB,
)
Marks Scored AFCAT No 180001 to 200000
(14529KB,
)
Marks Scored AFCAT No 200001 to 218220
(13151KB,
)
Marks Scored Offline Air Warrior Candidates
(280KB,
)