India and Vietnam signed 12 key agreements during PM Modi visit to Vietnam on the way to G20 summit in China. Check out complete visit details of PM Modi to Vietnam and deals signed by India and Vietnam.
PM Modi has big plans ahead of G20 summit. Here is complete details of PM Modi's plan of course for G20 summit.
G20 Tour Details of PM Modi - From 10000 Feet Above!
PM Modi will not go directly to China to attend G20 summit. Instead, he will go to Vietnam first and then will be heading to China.
From Delhi PM Modi headed to Vietnam for bilateral talks.
From Vietnam, after talks Indian PM Modi left for China for G20 Summit.
After G20 summit, Narendra Modi will fly back to New Delhi.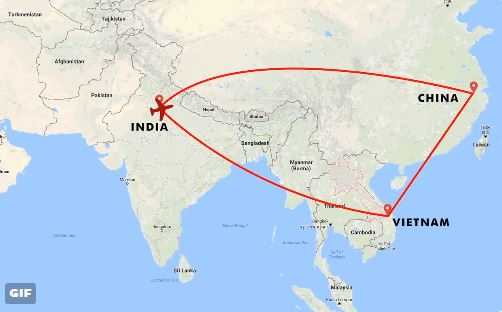 Highlights of Vietnam Visit By PM Modi
Here are the highlights of PM Modi's visit to Vietnam to enhance diplomatic ties with the Vietnam.
PM Modi Heading To Vietnam
Modi left from New Delhi, India to Hanoi, Vietnam by Air India. Modi left from New Delhi, India to Hanoi, Vietnam by Air India. PM Modi arrives at Hanoi, Vietnam - Gets grand reception PM Modi in Wreath Laying Ceremony at the Monument of National Heroes and Martyrs PM Modi Pays Homage to Ho Chi Minn PM Modi arrives at the Presidential Palace of Vietnam PM Modi receiving Ceremonial Reception PM Modi Visits President Stilt House Indian PM and Vietnam President Feed Fish Before Starting Bilateral Ties Indian PM Meets Vietnam PM Delegation Level Talks between India and Vietnam Takes Place 13 Vietnam PM Phuc Hosts Banquet For PM Modi 14 PM Modi visits the Quan Su Pagoda - heart of Vietnamese Budhism
15 Meeting with National Assembly of Vietnam Chairperson 16 Bidding Adieu to Vietnam after diplomacy packed day
Key Agreements signed By India and Vietnam During PM Modi's Visit to Vietnam There are total 12 key agreements signed between India and Vietnam.