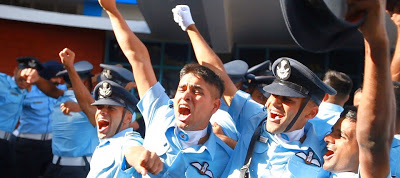 Indian Air Force has finally announced the
results of AFCAT
02/2012 today in the evening. Now the candidates can check whether they have been shortlisted or not. All shortlisted civilian candidates need to choose place and date of
SSB interview
testing online. Important note for shortlisted candidates for AFCAT 02/2012 is the choice of place and date of SSB testing is open from 29thSeptember to 14th October 2012. And the facility of choosing date and place is based on first come first serve basis. So hurry to fill up the place and date of
AFSB interview
. Also if you live in the same city where an AFSB centre is located, then you cannot opt for that AFSB centre. You need to choose a city which is not your hometown. So go on and
choose AFSB place and date for SSB interview
testing wisely. For airwarriors/airmen who are serving in the Indian Air Force, this online system is not applicable as IAF will decide their SSB place and date.
AFCAT 02/2012 results by Indian Air Force.
Please carry all
documents and certificates to be producedat document verification
along with you when you go to attend SSB interview.