Appeared in AFCAT 02 2012 and looking forward to select AFSB place and date for SSB interview testing? Indian Air Force has cancelled results of recently announced AFCAT 02 2012 results. Read more on the cancellation of AFCAT results 02 2012.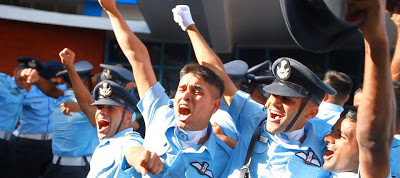 Indian Air Force has conducted Air Force Common Admission Test that is AFCAT in the month of August this year. In the beginning IAF has announced that the
AFCAT results will be announced on 26 September 2012
. But on 26 September 2012, IAF has announced that the
AFCAT results are postponed
and will be released on 27 September 2012 due to some technical reasons. Also Indian Air Force has urged the candidates that the shortlisted candidates to choose the AFSB place and date online from
www.careerairforce.nic.in
. And finally
AFCAT results were announced by IAF on 27 September 2012
. But the online link through which AFCAT candidates applied online was not functioning correctly and the shortlisted candidates were little bit upset as the Air Force has announced that the place and date of
SSB interview
through AFSB will be given on first come first serve basis. On 28 September 2012, IAF has updated that the AFCAT shortlisted candidates can
choose the AFSB interview place and date
from 29 September onwards. But on 29 September also IAF failed to provide the online link to the aspirants of AFCAT due to same technical breakdown. On 30 September IAF has announced that due to technical reasons, AFCAT online selection of AFSB place is not available but soon the issue will be resolved. Till this announcement, all shortlisted AFCAT aspirants were irritated by the functioning of ace defence force of india. But now Indian Air Force has cancelled the results of AFCAT stating that there were few flaws in their server and thus the results were cancelled. All shortlisted candidate's candidature is now cancelled and fresh list of shortlisted candidates will be released soon by the IAF authorities. But all the above events have raised a big question mark on credibility of the Indian Air Force. Being one of the biggest organisations of India, IAF has failed to meet the industry standards in providing the correct online system. Though IAF may have achieved wonders in the sky, it has failed to computerise its AFCAT online results and AFSB selection of place and date. Lets see when Indian Air Force will come up with a world class computerised system where the results will be published without any flaws. Also a question rises on the previous AFCAT results too. For now, IAF has failed to provide the good computerised friendly system to the aspirants who want to make a career in this esteem organisation.