Applied for commissioned officer post of Meteorological branch in Indian Air Force? IAF has released Meteorological branch interview dates for eligible candidates. Read on to know about call up for Meteorological SSB interview and dates.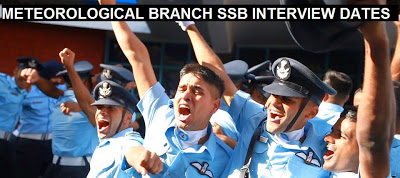 Indian Air Force has released notification of
AFCAT 01/2013
of
135 GDOC and 28 Short Service Commission courses
early in December 2012. Also IAF has released
notification of 44 SSC course for women
in January 2013. Air Force has reserved vacancies for its Meteorological branch in all three courses i.e., 135 GDOC, 28 SSC Course for men and 44 SSC course for women which are likely to start in January 2014.
For 144 GDOC and 28 Men SSC courses, IAF has conducted AFCAT examination on 24th February 2013.
Results of AFCAT 01/2013
were announced on 21st of March 2013 by IAF officials. And 44 SSC Women course is designed such that the candidates were to be shortlisted on the basis of percentage in Post graduation degree.
Today, Indian Air Force has published the list of all shortlisted candidates of Meteorological branch along with the SSB interview dates. 135 GDOC, 28 SSC Men and 44 SSC Women meteorology courses of IAF will commence in January 2014 at Air Force Academy Dundigal.
SSB interviews of IAF's Meteorological branch will be conducted at
No.1 AFSB Dehradun
,
2 AFSB Mysore
and
4 Air Force Selection Board Varanasi
on 15th April 2013 and 06th May 2013.
Candidates who are shortlisted for Meteorological branch should report at respective
Air Force Selection Boards
with required documents.
Also candidates should carry a certificate of undertaking in the prescribed format by Indian Air Force.
Check out
SSB interview dates of Meteorology branch of IAF
.