Looking for AFCAT previous year question papers? Air Force Common Admission Test is conducted by Indian Air Force for shortlisting candidates for commissioned officers posts. Check out the AFCAT I exam question paper held in February 2012.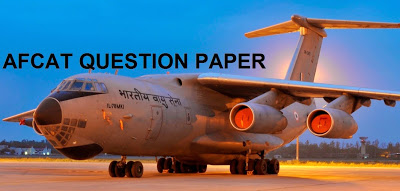 Indian Air Force conducts common admission test twice in a year called as
AFCAT
exam to shortlist candidates for further testing by
Air Force Selection Boards
. All shortlisted candidates will have to undergo
five day SSB interviews
. All recommended candidates will then become officers of Indian Air Force after successful training at
Air Force Academy Dundigal
.
AFCAT 01/2012 exam was held in February 2012. Here we have provided AFCAT 01/2012 question paper for all candidates who want to go through this previous year questi
on paper.
Check out
AFCAT 01/2012 question paper
here.
Going through previous year AFCAT question papers will make you comfortable with the entrance examination pattern and difficulty level.
AFCAT 01/2013 question paper
If you have failed previously in any of the AFCAT examination, please go through
best AFCAT books
as recommended by our experts to pass AFCAT exams easily.