About to appear in SSB interviews and looking for questions asked in personal interviews? Personal interview or personality test in SSB is the most important test to be recommended by the board. Read on to know about expected SSB interview questions.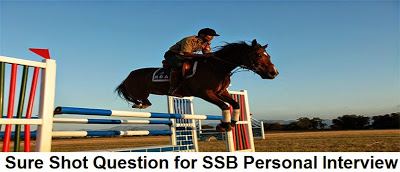 SSB interview
is one of the most mysterious and toughest interviews to pass. No one till now has clear cut idea on what factors are looked for by the interviewing officers. That's how the psychology is tested in SSB interviews. They look for various
officers like qualities
in the candidates giving interview before them. Persons with OLQs will definitely get through the interview and become officers in Indian Navy, Army and Air Force.
Coming to personal interview question round in SSB interviews, there are numerous questions asked during the interviews by Services Selection Board officers. Here we have given the current and latest included question in the interviews so that our readers can stay ahead in the final recommended list.
Why did you choose this particular SSB interview selection board or venue?
As all three armed forces of India are providing the facility to choose SSB interview place, this question has gaining emphasis in the interviews. As all interviewing officers want to know why that particular selection centre has been chosen by the candidate in front of them, it will be a good question to check the psychology of a candidate.
Definitely there must be a reason for which you have selected the place of SSB interview testing. It might be a place near by your hometown or residing town. Or you may have some relative residing in that city etc. Whatever the case may be SSB interviewing officers will ask you this question for sure in your personal interview.
It is better to prepare yourself for this question right from now onward so that you may not get surprised by the question. Be genuine in answering to this SSB personal interview question as your answer will reveal many qualities and traits of your personality.