About to appear in SSB interview and want best tips to pass screening test? Clearing screening test is compulsory to enter into second stage of SSB interviews. Check out experts tips on how to pass screening test of SSB interviews.
SSB interview
is divided into two stages of testing. First stage is screening test. Candidates who fail to pass screening test will be sent back to their homes. First stage of SSB testing includes two tests viz.,
Intelligence test
and PPDT. Between these two screening tests, 
Picture Perception and Description Test (PPDT)
is the only test which a candidate need to pass in order to clear screening test on first day of SSB interview. Thus, PPDT is the key test for all candidates who want to pass SSB interviews.
In PPDT test, all candidates will be seated in a big hall or auditorium as per the chest numbers allotted to them by SSB board. On the screen, a picture will be shown for half minute and four minutes time will be given for a candidate to write a story based on the picture. In the four minutes, candidate need to write a title of story, draw figures showing how many people are there in the picture and finally, he need to write down the story.
Tips to pass SSB interview screening test
Passing SSB interview screening test is very easy if a candidate know in advance about the testing procedure. Otherwise, he will be wasting his energy for unwanted and useless things. So let us see how answer sheet appears in SSB interview's PPDT test.
Sample answer sheet of PPDT test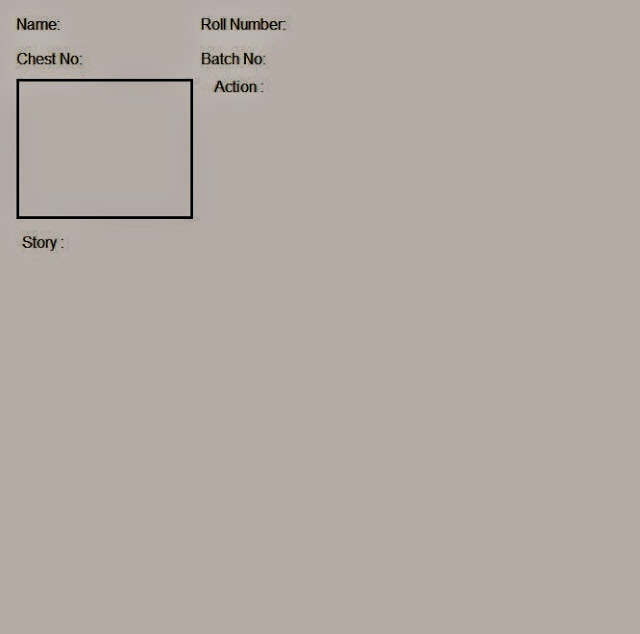 In the answer sheet of PPDT test, first there will be fields where details of candidates to be written. After that there will be a square box in which a candidate need to write down or mark people recognised by him in the picture shown during the half minute. Beside the box, there will be a word "Action ". In front of action, candidate need to write down the title of the story. Below the box, there will be a heading named as "Story". So here candidates need to write down their story.   Candidates need to practice writing sample stories of PPDT well in advance so that they can write down a story quickly. Also candidates will have good idea on how to write good title for PPDT pictures. After writing the story, these papers remain with candidates. Candidates will be then divided into groups as per their chest numbers. Batch wise candidates will be called into PPDT discussion room.    Candidates will be seated according to their chest numbers in a semi-circle facing SSB interview psychologists. First candidates will be asked to narrate the story written by them one by one. While narrating the story, candidate should be very confident. We suggest candidates to remain calm and cool during the entire screening tests of SSB interviews. While narrating the story, candidates should use normal vocabulary and should limit their narration to time given by the psychologist.   Try to be attentive when other candidates are narrating. Remember the key points highlighted by others so that you may mention them during the discussion. Once the discussion starts, candidate should try to
initiate the discussion
to grab extra points. Initiating a discussion and confidence are two key
Officers Like Qualities
that are tested during the screening test of SSB interviews.   Once the discussion is initiated, candidate need to participate continuously till the discussion is ended in order to pass screening test of SSB interview. Listen to the group and try to justify your points but do not be adamant during the PPDT discussion.   Thus, if a candidate follows above tips, he will surely pass the screening test of SSB interviews and will definitely enter into second stage of SSB testing.