Want to become an officer in Indian Army after completing engineering through Technical Graduate Course? Indian Army has released TGC 119 notification today. Check out eligibility criteria, how to apply and last date to apply for TGC 119 course.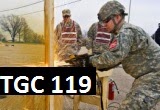 Indian Army conducts Technical Graduate Course to recruit engineers for its technical branch. TGC 119 notification is a great opportunity for all candidates who want to serve nation through joining Army.
Eligibility criteria of TGC 119
Candidates who have studied following branches of Engineering degree are eligible to apply for TGC course.
Civil
Mechnical
Electrical
Electrical & Electronics
Automobile
Workshop Technology
Aeronautical
Aviation
Aerospace
Ballistics
Avionics
Computer Sc. & Engg.
Computer Technology
Info Tech
Electronics & Telecom
Telecommunication
Electronics & Microwave
Electronics & Instrumentation
Instrumentation
Architecture
Building Construction Technology
Food Tech
Bio Tech
Bio Medical Engg
Chemical Engg
Metallurgy & Explosives
Metallurgical Engg
Industrial
Manufacturing Engg
Industrial Engg & Mgt
Production
M SC Computer Science
Applicants age should be from 20 years to 27 years as on 01 July 2014 i.e., candidates hsould have born between 02 Jul 87 and 01 Jul 91. All candidates who are studying in the final year of engineering and those who have successfully completed engineering are eligible to apply for TGC 119 course. There are total 80 vacancies available in TGC 119 course.
Other eligibility criteria of YGC 119 as per notification
Applicant should be Indian national. Minimum applicable age of TGC 119 course required is 157.5 Cms and candidate should have correlated weight. North east and hilly area candidates have height relaxation of 5 Cms.
Applicants will be selected through five day SSB interview.
How to apply for TGC 119 course of Indian Army?
Online application of TGC 119 course is provided in the Indian Army's official website. Candidates need to fill it up. Filled up applications of TGC 119 course should be printed out by candidates. There is no need to send the filled up applications this time to Army recruitment board. Candidates need to take two print outs of the filled up applications. So go on and fill up the application in order to apply for TGC 119 course.
What army offers for TGC 119 selected candidates?
Army offers following benefits and facilities to the shortlisted candidates.
CDS exam I 2014 notification
open for graduates to become officers in Indian Armed Forces.
Note:
Many candidates are facing error while submitting the online TGC application. Check out our article on
solution to TGC 119 application submission error of invalid date of completion
.
Also check out our
TGC 119 application fill up guide
.
Update : Indian Army has published
cut off and SSB centre allotment list of TGC 119 course
.