Download risk certificates of NDA and TES 10+2 SSB interviews. Check format of Indian Army's NDA and 10+2 TES course SSB interview risk certificate here.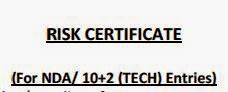 All candidates appearing for SSB interview of NDA NA and 10+2 Technical Entry Scheme (TES) courses are required to submit risk certificate to selection board officials.
Risk certificate is essential for all candidates because sometimes few candidates get injured during
SSB interview
s. So parent/guardian of candidate has to give risk certificate mentioning that he will not claim any compensation or insist for retest.
Here we have provided risk certificate in the official format of Indian Army for all candidates who are about to appear in SSB interviews for NDA NA and TES courses.
We suggest all candidates to fill up the form and get it signed by you parents or guardian.
Risk certificate format
(For NDA/ 10+2 (TECH) Entries)
I _______________(Name) Father/guardian of _______________(Name of candidate) who is a
candidate for NDA/ 10+2(TES) / 10+2 (TECH) / Regular Commission in the Army / Navy, here by
certify that I fully understand that my son/ward will, if required, attend Service Selection Board
Interview with my full and free consent and at my own risk and that I or my son/ward shall not
be entitled to claim any compensation or retest for the same course or any other relief from
the Government of son/ward sustains any injury during the course of /as result of any of the
tests administered to him at the said Service Selection Board or while using military transport
due to any reasons.
Signature of Parent /
Guardian
Place : ……………………………. Address
………………………………………
Date : ……………………………..
Date : ……………………………… (Signature of candidate)
Check out