Want to join Indian Navy through 10+2 Cadet B Tech entry permanent commission course and looking for the notification? Navy has released the official notification for the 10+2 students. Check out eligibility criteria, last date to apply.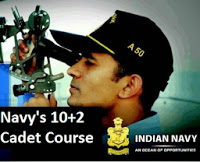 Indian Navy's 10+2 Cadet B tech course notiifcation
Indian Navy is one of the best career options for all those who aspire to become an officer in Indian Armed Forces and serve for the country. There are vatious exams and ways through one may become an officer.
Indian Navy has released notification of 10+2 Cadet B Tech entry course today. Navy has invited applications from unmarried male candidates.
Eligibility criteria of 10+2 Cadet entry course of Navy
Following is the eligibility criteria to become an officer in Indian Navy through 10+2 Cadet B Tech entry July 2014 course.
Applicants should have born between 02 Jan 1995 and 01 July 1997 i.e., age of applicant should be 17 to 19 years as onn 01 July 2014.
Applicant should have passed 10+2 / Intermediate or equivalent exam from recognised University/Board.
Candidate wishing to apply for Navy 10+2 cadet entry course should have secured 70% in Maths, Physics and Chemistry subjects in 10+2 level and also should have scored minimum 50% marks in English subject either in 10th class or in 10+2.
Candidate should have minimum height of 157 Cms and should not be overweight or underweight.
Eye sight of applicant of 10+2 cadet entry scheme course of Navy should be 6/6, 6/9 correctable to 6/6, 6/6 with glasses.
Candidate should not have color blindness.
Also applicants should not have permanent body tattoos on their body except on inner face of forearms.
Training offered for 10+2 cadet entry course
Indian Navy's 10+2 Cadet B Tech entry course will be commencing in the month of July in 2014. All candidates who are recommended by SSB boards, will have to go through four years training at
Indian Naval Academy Ezhimala
in which they will be completing engineering course.
How to apply for 10+2 course of Navy
All applicants who are fulfilling the eligibility criteria and want to apply for Indian Navy's 10+2 Cadet B Tech course can apply online applications from 14th December to 05th January 2014. Online applications of 10+2 Navy B Tech entry course will be available on official website of Indian Navy. Last date to apply for the course is 05th January 2014. All candidates will be selected based on
SSB interviews
held by Navy SSB boards. Also check out
salaries of Indian Navy officers
here.