Looking for Indian Air Force's official officer recruitment website - www.careerairforce.nic.in ? IAF releases recruitment notifications, results and SSB interview dates through its official officer career website.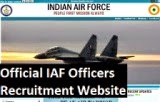 Indian Air Force is one of the biggest Air Forces in this world. IAF has two official websites. First website is its general website and second one is the
official officer recruitment website
. Let us see what information is available on the recruitment website of IAF.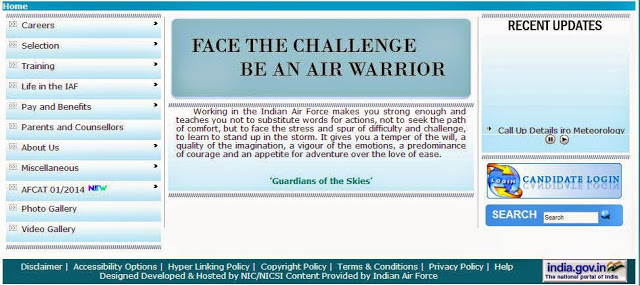 Officer Careers
On the left hand side bar, first link is "Careers".
Careers link
provides information on how to become an officer in Indian Air Force. Guidance for all candidates is provided here. If a candidate is in doubt about how to join IAF, here the candidate can find the opportunities available to him according to his qualification. Overview of IAF officers life is also provided here. If you want to know about various branches of IAF, you will get complete information here.
Selection and training of officers
Under "
Selection
" and "
Training
" links provided on the left hand side, complete information is given about officers selection process i.e., about
SSB interviews
and all training establishments ex. AFA information is given. One can see medical standards required for men and women applicants for becoming officers in Indian Air Force.
Life in IAF and pay & perks of IAF officers
Under the link "
Life in IAF
", various adventurous life stories were given to motivate all young aspirants about an officer life in Indian Air Force. Life in IAF does not limit one to defence lifestyle. There is a lot of adventurous life during the service in Indian Air Force as an officer. One can pursue para jumping, trekking, rafting, sports and other breath-taking adventures.
Pay and perks of officers in Indian Air Force
link does provide an in depth information about the salary and allowances an officer will be getting.
Personal growth, About us and other links
In the left hand sidebar, various links are provided to give an overview of officer life in IAF and also about IAF organisation's overview. Information is also there for parents and guardians of aspirants who want to become commissioned officers. If
AFCAT
or other notifications are open, they will be displayed here. Photo gallery and video gallery are provided so that one can know about various aircraft and adventures of Indian Air Force commissioned officers.
Recent updates of Indian Air Force officers recruitment
Under the link "Recent Updates" on the right hand sidebar of official Indian Air Force website, latest updates on
SSB interview dates
and merit list details will be placed. Also general important instructions and guidelines will be displayed to guide candidates applying for officer posts. So if you want to get updated with Indian Air Force recruitment related news, keep an eye on this portion.
Candidate Login for officer job applications and admit card downloading
Under the "
Candidate Login
" link, IAF provides one of the most important webportal of www.careerairforce.nic.in, i.e., online application and admit card download link to applicants. If you want to become an officer through AFCAT exam, you need to access this link and
apply for AFCAT exam
. Also when IAF provides admit cards of AFCAT, you need to access this link. Last but not least, if a candidate needs to select SSB interview date and place, he needs to go to candidate login page. Thus, Candidate Login section is the heart of
www.careerairforce.nic.in
- official website of officer recruitment of IAF.