Are you a woman and want to become technical officer in Indian Army through 13th SSC Tech course? Indian Army has released SSC 13 Tech women notification. Check out women engineering candidates recruitment in Army.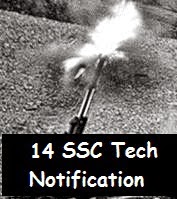 Indian Army is about to recruit young men for its technical branch through 14th SSC women tech course. All successful women candidates will be granted short service commission in the Army.
SSC Tech 43 eligibility criteria
Applicants age should be between 20 to 27 years as on 01 October 2014. Applicants should have born between 02 October 1987 and 01 October 1994. Only women candidates are eligible to apply for SSC Tech 14th women course. For men candidates, SSC Tech 43 course is notified by Army.
Applicant should have completed BE or B Tech engineering course or should have been studying in the final year. There is no minimum aggregate percentage laid down by the Indian Army for SSC Tech 14 course.
Applicant should be Indian citizen. Minimum height limit for SSC Tech 14 applicant is set as 152 Cms. Also candidate should be medically fit.
Engineering branches eligible to apply and vacancies of 43 SSC Tech course
BE/B Tech Civil (including Building Construction Technology) - 01
B Architecture - 01
BE/B.Tech Mechanical - 02
BE/B.Tech Production (including Industrial/Manufacturing/Industrial Engg & Mgt) - 01
BE/B Tech Automobile Engg ( including Workshop Technology) - 01
BE/B.Tech Aeronautical/Aerospace/Avionics - 01
BE/B.Tech Metallurgical/ Metallurgical & Explosives - 01
BE/B.Tech Electrical/Electrical & Electronics - 02
BE/B.Tech Electronics (including Electronics & Instrumentation/Micro Electronics & Microwave) - 02
BE/B.Tech Electronics & Communication/ Electronics Telecommunication/Telecommunication/Satellite Communication -03
BE/B.Tech Bio- Tech/Food Tech - 02
BE/B.Tech Info Tech/Computer Sc & Engg/Computer Technology/ M.Sc (Computer) - 02
There are total 19 vacancies available for women in SSC Tech 14th course.
How to apply and last date of SSC Tech 14 course
Only online applications are invited for SSC Tech 14 course. Applicants can fill up online applications of 43 SSC tech course in Indian Army's official officers recruitment website. Last date to fill online forms is 03 March 2014. Applications of SSC Tech 14 course can be filled up from 03 February 2014 onward.
Indian Army will set a cut off and will shortlist candidates for
SSB interviews
. All candidates who crack the SSB will become an officer in Indian Army.
14 SSC Tech course will commence in October 2014 at Officers Training Academy.
Also check out