Looking for best SSB coaching centres to crack interview. Check out top five best SSB coaching academies in India as per the experts and aspirants.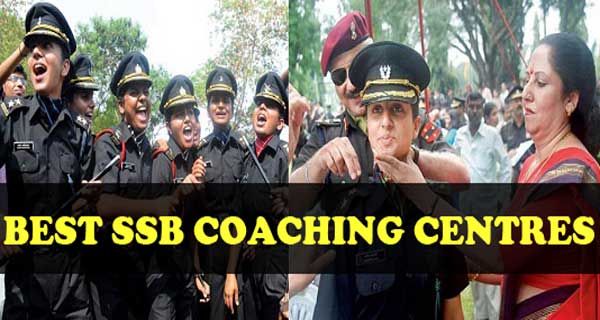 As 2014 has arrived, many defence aspirants are dreaming of becoming an officer in Indian Armed Forces. As it is compulsory for all candidates to crack SSB interview, coaching plays a vital role. There are hundreds of SSB coaching academies in India. But getting coaching from the best SSB coaching academy will help candidates to get recommended. Here we have selected following five SSB coaching centres as best in India.
Evaluation method of best SSB academies
We have considered the following things while preparing the top SSB coaching providers.
Faculty - Faculty of any educational group is very essential as the success rate of candidates attending the coaching will largely depend on the faculty. We have taken psychology, GTO and interviewing faculty of all institutes here.
Infrastructure - After faculty, infrastructure is the second requirement of a good coaching academy. So we have considered availability of required infrastructure in the academies for evaluation.
Fees - Fees is also one of the major aspect to consider as most of the Indians are still poor and cannot afford huge amount of fees. So we have considered fees as a measure to calculate the overall rating of an academy.
Success rate - Number of recommendations in SSBs is also considered for the final evaluation as the thing matter for SSB coaching academies is its success rate.
Hostel facility - Hostel facility is considered as there are many candidates who want to take coaching for SSB interviews.
Reach - Reach of the academy in the market is the major index of evaluating the academy. Without reach, even if any SSB coaching centre have all the above features, there will be very less number of candidates for taking coaching. So we have considered reach also as a measure to decide top academies for SSB coaching in India.
Cavalier SSB coaching academy Bangalore
Cavalier with its consistence delivery of good coaching has climbed one position up from last year recommendations. Cavalier SSB coaching academy Bangalore has topped in our list of SSB coaching academies in India for the year 2014-15. Faculty of Cavalier Bangalore is very impressive in all respects. World class infrastructure with all latest gadgets to give best SSB coaching is with the Cavalier. Fees charged per candidate for two week SSB coaching is 8500 rupees. A good number of Cavalier students have been recommended in SSB interviews last year. Good hostel is also available at 300 rupees per day charge. So in view of all the above factors, we place Cavalier academy as number one SSB coaching academy in India.
Minerva Academy Mohali
Minerva SSB Coaching academy has also managed to climb one spot up - thanks to Baalnoi academy's psychology faculty. Second top SSB coaching academy for 2014-15 is Lt Col Deol's Minerva academy. Located in Mohali city near to Chandigarh is the second best academy for SSB training. Faculty of Minerva is at par with Cavalier Bangalore and beautiful campus makes this academy one of the best. Fees of appx 8600 rupees is being charged per candidate for SSB coaching. Hostel fees is slightly higher in this coaching centre. Infrastructure is very good in Minerva. Many candidates do attend coaching at Minerva and also success ratio is quite good. So we have placed Minerva as second best SSB academy in India.
Baalnoi Academy New Delhi

In the last year list of top SSB coaching institutes, Baalnoi was the topper. But this year Baalnoi slipped two positions and has been placed at third spot. In all terms Baalnoi SSB coaching centre is at par with Cavalier and Minerva but its psychology faculty. Many candidates who got SSB coaching in Baalnoi academy were not that much happy because of poor psychology faculty. Otherwise Baalnoi academy would have come in the first spot. Fees of 9000 rupees is being charged per candidate. Infrastructure is good. Hostel facility is average and overall Baalnoi academy stands as third best SSB coaching academy in India.
Olive Greens Chandigarh

Olive Greens of Chandigarh has given tough fight for top academies. Olive Greens has stood at fourth place this year for providing best SSB coaching. Col Ashokan has steered Olive Greens by promoting the institute in various social networking websites by providing good guidance. Faculty of Olive Greens is good and infrastructure is one of the best in India. Thousands of candidates have taken the SSB coaching and good amount of students have been recommended. So according to us, Olive Greens is the fourth best SSB coaching academy.
Col Dagar KS Academy Gurgaon
Col Dagar SSB coaching academy stood fifth in our recommended SSB coaching interview academies. Faculty wise Col Dagar Academy is at par with Olive Greens academy. Infrastructure is also very good as the academy boasts of a ground for GTO training. Fees collected for coaching is 7500 rupees per candidate. Success rate is also good. Only reach of Col Dagar academy is not that much among candidates. So Col Dagar Academy of Gurgaon is the fifth best SSB coaching academy in India.

Thus, we have seen top SSB coaching academies here.

Also check out