What are the chances of getting permanent commission for short service commission officers of Indian Army, Navy and Air Force is one of the frequently asked question. Check out whether it is possible or not.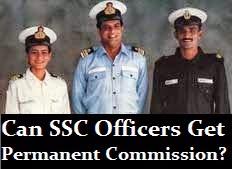 Many aspirants who are about to appear in SSB interview and who have cracked wonder whether SSC officers can become permanent commission officers.
There are two types of commissioning awarded in Indian armed forces. First one is permanent commissioning and second one is short service commissioning. Permanent commission officers will get all benefits. But SSC officers will not get pension benefit and also they will retire after ten or fourteen years of service.
So many candidates who are about to join as Short Service Commission officers in Indian Army, Navy and Air Force ask whether they can get permanent commissioning after joining the services. This question is obvious as many candidates are blank about their future after 10 or 14 years.
First question that comes in the mind of all aspirants is why there are two types of commissioning. To fulfill urgent requirements and fulfill officers vacancies, short service commission came into practice.
Chances of getting permanent commission for SSC officers depends on many factors. Most important factor is the number of vacancies existing in permanent commission officers of that particular branch. If the vacancies do exist, then volunteer SSC officers will be asked to apply for permanent commissioning. Passing written exam is compulsory for getting permanent commissioning.
Suppose there are 50 permanent commission officers vacancies available in mechanical branch. Then SSC officers of mechanical branch will be asked to apply for permanent commissioning if they wish. Volunteers will apply for the posts. So a written exam will be held and officers record will also be considered. Permanent commissioning then will be awarded to SSC officers who tops the exam.
There are plenty of candidates who think that only Indian Army does have the conversion option of SSC officers in to PC officers. This custom is not only followed in Indian Army but also practiced in Indian Air Force and Navy.
So it does not depend on which service you join. All services have equal opportunities for SSC officers.
If the vacancies does not exist or one cannot pass the prescribed exam will have to leave the service as per their engagement. Also candidates who do not have good record will not be eligible for serving further as officers.
There are plenty of opportunities for SSC officers after retirement from defence. So one should not worry about this aspect and join the services as the work experience they get there will enable them to make a better career outside defence forces also.