Check out NDA exam tips and tricks to pass the examination. NDA NA exam is a tough exam to pass. Here are best tips and tricks to pass NDA examination and become an officer.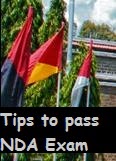 UPSC helds
NDA NA examination
twice in a year to recruit 10+2 passed candidates for officers posts in Indian Army, Navy and Air Force.
NDA NA examination I 2014 notification
was released by UPSC on 21 December 2013. Last date to apply for NDA I 2014 exam is 20 January 2014. Only online applications need to be filled up. Exam of NDA I will be held on 20 April 2014. NDA NA II exam 2014 notification will be released on 21st June 2014 and the last date to fill online applications is 20th July 2014. NDA II 2014 exam will be held on 28th September 2014. Previously, we have provided
NDA exam passing tips
so that all candidates can be benefited. Now in addition to the previous NDA exam tips, we are providing few more important
tricks and tips for passing the NDA 2014 exams
.
NDA NA exam 2014 passing tips
NDA NA exam consists of two papers. First paper is Mathematics and second paper is General Ability Test. Passing both papers is mandatory to pass NDA exam. Day by day NDA NA exam standard is rising. So in view of the high standard, appearing candidates should keep few tips in mind so that they can easily pass the NDA exam 2014.
First and foremost tip is to study hard and prepare well. Without preparation passing NDA exam is very difficult.
Only preparation will not help. Candidates need to identify the key areas of NDA NA exam syllabus and work on them as NDA syllabus is very vast.
Coming to General Ability Test GAT paper of NDA NA exam, English section consists of 50 questions. English question paper of NDA exam is very easy to score marks if one prepares well.
English paper consists of mainly common errors, synonyms, passage, fill in the blanks and sequences.
So if you prepare well the English paper, your chances of passing NDA exam 2014 will be more.
Part B consists of Social sciences, Physics, Chemistry, general Knowledge and Current Affairs.
Part B is little bit tougher and requires good amount of study.
In Part B of GAT paper, current affairs is little bit easy if a candidate follows the latest news regularly.
Mainly national awards, sports, nobel prize winner details and other famous personality related questions will be tossed in the NDA exam 2014.
So after filling up the application, candidates need to follow the newspapers regularly.
In the mathematics paper of NDA NA exam, there is no shortcut available for candidates as proper practice is must for all.
Still, one can see previous year NDA question papers and check out which section of mathematics is being covered frequently.
Matrices, algebra and trigonometry related questions amount to maximum number of questions. So you should prepare well these topics.
Best books for NDA exam can also help you a lot.
Also we recommend candidates who find the NDA exam very tough to attend NDA coaching.
So here were the tips and tricks to pass NDA 2014 examination.