Are you looking for best SSB coaching academies in Chandigarh? Col Ashokan's Olivegreens is one of the best academies for SSB interview coaching. Check out our review, fee charged and contact details of Olivegreens SSB coaching center in Chandigarh.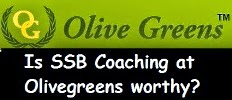 Olivegreens academy was founded by three ex Service Selection Board officers - Col K Ashokan, Col R Gadhok and Col DJS Chahal. All of the founders have good amount of experience in assessing the candidate psychology at Indian Army's SSB boards. At present Olivegreens has three branches at Chandigarh, Bangalore and Palakkad (Kerala).

The three musketeers of Olivegreens SSB Coaching Academy
Olivegreens SSB coaching academy location and contact details
Olivegreens SSB academy is located at Lohia International School, Near Bsnl Exchange in Manimajara of Chandigarh city. Chandigarh is well connected by all the means of travel. There are numerous trains and flights from New Delhi and also road connectivity is very good from New Delhi. Thus,
Olivegreens SSB academy
is the best to get SSB coaching for all candidates nearby Chandigarh.

Psychology classes as part of SSB coaching at Olivegreens
For any query on SSB training you may send an email to info@olivegreens.in. Or you may call up and speak directly with Olivegreens officials on +91-93160 16788 / +91-94651 76427.
Official website of Olivegreens is www.olivegreens.in, www.ssbcoaching.co.in.
Courses offered by Olivegreens Chandigarh SSB coaching center
There are three variants of SSB coaching programs that are offered by Olivegreens.
Courses
Duration
General Category (Single) incl Regn
Group Scheme(5 or more from the same institution)
SSB Preparation
2 Weeks
*9000/-
*8500/-
SSB cum Personality Development
3 Weeks
*12,500/-
*11,500/-
SSB cum Personality Development
4 Weeks
*14,500/-
*13,500/-
Olivegreens does offer a discount of 500 rupees for NCC cadets, serving defence personnel and wards of police / paramilitary personnel. Wards of retired defence personnel do have 1000 rupees discount in this SSB training academy. Hostel facility is available for both boys and girls. Olivegreens charges 4500 rupees for two weeks as hostel charge for those candidates who are from outside Chandigarh. There are refresher courses available at Olivegreens for candidates who have earlier availed SSB coaching at discounted rates. Apart from SSB coaching, Olivegreens academy gives NDA coaching, CDS coaching, ACC coaching and CPF written exam coaching. 7 weeks regular and 3 weeks crash course of NDA / CDS / ACC / CPF coaching starts on every monday in Olivegreens, Chandigarh. 13000 rupees is charged for 7 week caching.

Candidates practicing GTO obstacles at Olivegreens ground Coming to training facilities, Olivegreens has a good ground and open space to provide good GTO coaching to all candidates attending SSB coaching. Also psychology guidance is very good. PABT coaching is available at Olivegreens. Thus, we consider Olivegreens as the
best SSB coaching academy in Chandigarh
.
Also check out