Are you looking for AFCAT 1 2014 exam cut off marks? Candidates who score more than cut off marks will get SSB interview call letter. Check out cut off marks of AFCAT 1 2014 exam set by Indian Air Force here.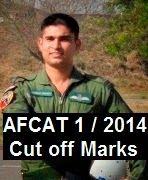 Indian Air Force has conducted AFCAT 1 2014 exam on 23rd February 2014. Maximum marks that can be scored in the
AFCAT exam
is 300 marks.
IAF will set a cut off based on the performance of candidates and toughness of the question paper.
Candidates who make it to secure marks above cut off will be called for
SSB interview
in Air Force Selection Boards. SSB interview is the key for the final selection of candidates for IAF officer posts. In general one out of ten candidates will get SSB call letter. So AFCAT 1 2014 cut off will be the deciding factor for all aspirants who have appeared in the exam. Cut off is decided by IAF officials by considering many points. First and foremost point considered is average marks scored by the candidates. Second point is number of candidates appeared for AFCAT examination. Third point is number of vacancies available. So after considering the above points, Air Force will set cut off marks of AFCAT 1 2014 exam. As the negative marking is there in AFCAT exam evaluation, candidates need to be careful while attempting the question paper. AFCAT 1 2014 Cut off marks will be declared officially at the time of announcing AFCAT 1 2014 results.
Expected cut off marks of AFCAT 1 2014 exam is 135 to 150.
Also check out