Recommended in SSB interview and looking for CDS exam I 2013 final results by UPSC? UPSC has released final merit list of 99 SSC and 13 SSC OTA courses today. Check out final results of CDS exam I 2013 exam here.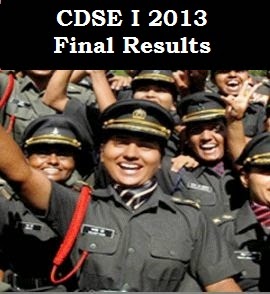 Total 308 candidates are placed in the final merit list of CDS exam I 2013 by UPSC after compiling the results. Out of 308 candidates, 257 candidates are men and 51 are women. The final selection of these candidates is based on their performance in Combined Defence Services Examination I 2013 and SSB interviews held by the Services Selection Boards. There are two courses offered for Officers Training Academy.
99 Short Service Commission course for men.
13 Short Service Commission course for women.
Both OTA SSC courses will commence in April 2014. 99 SSC course has 175 vacancies and 13 SSC course has 12 vacancies. Final selection will depend on the medical examination results.