Appeared in SSB interview for 35th NCC Spl entry course for men and looking for merit list? Indian Army has released official list of finally selected candidates for NCC 35th course. Check out NCC Cpl 35 Men course merit list here.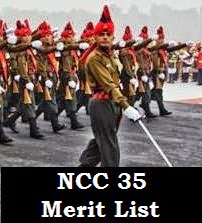 There are total 28 candidates name is in the official
merit list of NCC 35 Men course
. Joining instructions will be issued by Indian Army as per the merit order. Course will commence on 07 April 2014.
Merit list of NCC 35 Men course
Merit Roll Name Date of Batch/Chest Medical No No Birth No Status 1 801402 Simranjeet Singh Walia 14.06.89 ANCC-35188/09 FIT 2 803265 Pawar Sanket Appasaheb 18.05.92 ANCC-35188/21 FIT 3 801432 Akash Rattan Singh Cheema 23.02.90 KNCC-40189/13 AMB 4 801457 Tanveer Singh Mann 09.09.90 KNCC-40189/11 AMB 5 801080 Laishram Jameson Singh 02.03.92 ANCC-35191/13 FIT 6 803754 Prabhu Narayan Kapur 13.08.91 HNCC-38186/12 AMB 7 802855 Prakash Singh 17.01.93 CNCC-71622/13 FIT 8 801639 Vivek Rathee 06.09.92 CNCC-71616/11 FIT 9 801361 Armaandeep Singh Wahad 15.01.93 ANCC-35188/32 FIT 10 800970 Krishnamoorthy K 13.03.93 G-SNCC-63081/17 Awaited 11 802901 Diwakar Sharma 25.01.89 DNCC-39193/24 FIT 12 800199 Rishabh Pandey 26.11.91 ENCC-42187/22 FIT 13 800296 Rajat Singh 01.07.90 CNCC-71616/07 FIT 14 801640 Deepak Punia 19.10.90 ENCC-42186/42 FIT 15 802862 Ramsagar Panday 10.01.91 RNCC-46183/28 RMB 16 800004 S Kirthi Verman 06.02.89 NNCC-68101/17 FIT 17 800670 Umar Kamaal 08.11.90 NNCC-68101/08 AMB 18 801576 Anuj Kumar 08.03.89 KNCC-40189/18 AMB 19 800771 Vikas Singh Gusain 30.11.92 ENCC-42186/40 FIT 20 802169 Aditya Pratap Singh Baghel 26.07.92 RNCC-46182/38 FIT 21 800211 Sahil Ahuja 06.05.92 KNCC-40185/27 FIT 22 802969 Ravindra Singh 15.08.92 RNCC-46182/28 RMB 23 800786 Lalit Kumar Dogra 14.01.93 DNCC-39193/01 FIT 24 800182 Hanish Kathuria 01.09.91 HNCC-38190/11 FIT 25 801126 Gopal Singh 06.03.89 ANCC-35188/24 FIT 26 801406 Ganesh Kumar Hans 11.07.89 CNCC-71622/17 AMB 27 800928 J Ajandar 02.06.92 NNCC-68101/18 AMB 28 800894 Ajay Kumar 31.07.91 ENCC-42186/23 AMB
Also check out