Have you applied for SSCW Non Tech 14 course and searching for SSB interview dates for shortlisted candidates? Check out SSB interview date and centre allotted for SSCW Non Tech 14 course of Indian Army here.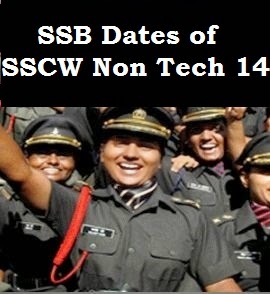 Indian Army has invited applications for SSCW Non Tech 14 course from women candidates in India. SSC Women 14 course will commence in October 2014. All candidates who will qualify for the course will become administrative officers in Indian Army.
There are total 797 candidates are shortlisted by Indian Army Headquarters in general category and two candidates in Widow category.
SSCW 14 Non Tech course SSB centre allotment list
Total 799 candidates are shortlisted for
five day SSB interview
for the SSC Women Non Tech 14th course.
SSB Allahabad - There are total 401 candidates who will be tested by SSB Allahabad board.
SSB Bangalore - 147 women candidates will appear for SSB in Bangalore selection centre.
SSB Bhopal - Total 251 candidates will appear for SSCW NT 14 course SSB interview in Bhopal selection centre.
SSCW 14 Non Tech SSB interview dates
Only Bangalore selection board interview dates are released by the Indian Army for SSCW Non Tech 14 course.
SSB Bhopal interview dates
SSB Allahabad interview dates
We will publish Bhopal and Allahabad SSB interview dates as they are available.
I am shortlisted for SSB. now what should I do?
First of all congratulations for being shortlisted for the SSB interview. SSB interview is the main exam in which you need to qualify. Keep all documents ready when you report to SSB centre as per allotted date. Read the following articles to get an insight.