Looking for Territorial Army officer notification of Indian Army? Territorial Army provides opportunity to civilians to serve in Indian Army. Check out eligibility criteria, how to apply and last date of territorial army officer posts.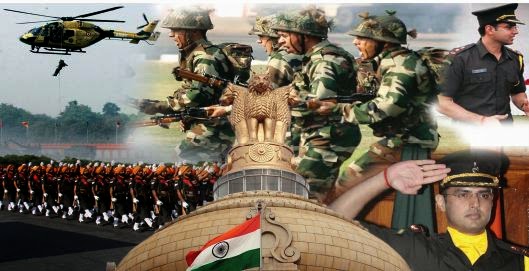 Indian Army's Territorial Army is an excellent opportunity for Indian citizen who want to fulfill their dream of joining Indian Armed Forces as an officer without sacrificing their private job or business. That is one can serve in Territorial Army as a part time officer. Territorial Army has released official notification for the next course.
Territorial Army Eligibility Criteria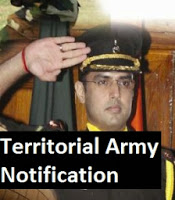 Applicants can apply for Territorial Army officer posts if they are fulfilling the following eligibility criteria.
Applicant should be male Indian citizen.
Ex defence officers may also apply for Territorial Army officer posts.
Age of the applicant should be between 18 to 42 years as on 30 June 2014.
Applicants should have passed graduation.
Persons employed in central or state government may also apply for Territorial Army.
Defence personnel are not eligible to apply.
Territorial Army written exam will be held on 10th August 2014 for shortlisted candidates. Applicants should
download Territorial Army application
from official website of Indian Army and should send the filled up applications to the following address.
Examination centers of Territorial Army
SER NO ZONE DOMICILE OF STATE/UT WRITTEN EXAMINATION CENTRE APPLICATION TO BE SUBMITTED TO 1. Zone I Himachal Pradesh, Haryana, Punjab, Delhi and Chandigarh Chandigarh Commander, TA Group Headquarters, Western Command, Building No.750, Sector-8B, Chandigarh-160018. Ph No.0172-2547864 2. Zone II Uttar Pradesh, Bihar, Orissa, Madhya Pradesh, Uttarakhand, Jharkhand, Chhatisgarh Lucknow & Patna Commander, TA Group Headquarters Central Command, Lucknow (UP) - 226002 Ph No.0522- 2482278 3. Zone III West Bengal, Assam, Manipur, Tripura, Nagaland , Mizoram, Meghalaya, Sikkim and Arunachal Pradesh. Kolkata & Shillong Commander, TA Group Headquarters, Eastern Command, Fort William,Kolkata (WB) - 700021. PhNo.033- 22313227 4. Zone IV Rajasthan, Maharashtra, Karnataka, Kerala, Gujarat, Tamil Nadu, Andhra Pradesh, Goa, Puducherry, Daman Diu, Lakshadweep, Andaman & Nicobar, Dadar and Nagar Haveli. Jaipur, Pune, Bangaluru & Hyderabad Commander, TA Group Headquarters Southern Command, Pune-411001. Ph No.020-26102848 5. Zone V Jammu & Kashmir Udhampur & Srinagar Commander, TA Group Headquarters Northern Command, Udhampur (J&K) - 182101 Ph No.01992- 243592 Last date to send the applications is 30th June 2014. After written examination,
SSB interview
will be held for shortlisted candidates.