Want to know whether NCC certificate necessary to become an officer in Indian Armed Forces? Read on to know whether NCC certificate is compulsory to attend SSB and weightage given to NCC cadets in SSB interview.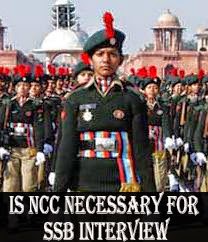 Having NCC certificate is a good thing as it develops personality. During NCC training, NCC cadets will be educated and encouraged to do social service. But many of Indian colleges and schools do not have the NCC programme in their campus. So majority of Indian students are not able to enroll in NCC.
Candidates think that there is special weightage for NCC candidates in SSB interview and few candidates think that NCC certification is necessary for appearing
SSB interview
. Let us see what the experts say in this regard.
First of all NCC certificate is not compulsory to appear or to apply for SSB interview. So candidates without NCC background can also go for SSB interview. There will be no extra marks for NCC candidates in SSB interview even many argue that there is special status for the cadets from NCC.
Candidates need to know that NCC cadets are generally selected because of their
OLQs
and not merely because of their NCC certificate.
Advantage of NCC cadets in SSB interview
Though the Service Selection Board does not give extra weightage for NCC cadets, most of the times, NCC cadets outshine other candidates who do not have NCC background. So most of the aspirants think that NCC cadets are preferred. But the truth is SSB board officers treat all candidates without any prejudice. Main reason for an NCC cadet to perform well and get recommended is his experience and character development through NCC training.
During the NCC camps, the cadets will undergo physical and mental exercises and thus they inculcate few OLQs. As NCC cadets personality is little more groomed than that of a normal candidate without any exposure to NCC / NSS, they become the favourite.
Special benefits for NCC cadets in SSB
Indian Army conducts separate recruitment drive for NCC cadets through NCC special entry. Also Army, Air Force and Navy has 10% vacancies reserved for NCC cadets. Thus, NCC cadets will be beneficial from this policy.
According to the experts, both NCC and Non NCC candidates with same mindset undergoing SSB interview have equal chances of getting recommended by the selection board. So if you are in NCC, do not brag about it and do not become overconfident. And candidates who do not have NCC experience, do not dishearten but appear in the SSB interview with confidence and with full preparation to crack.