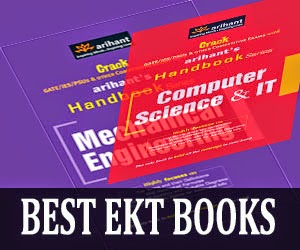 Engineering Knowledge Test
is the most crucial test for engineering graduates who want to pass the AFCAT exam. As Indian Air Force is conducting technical written exam for the first time, books of EKT are not available in the market.
Here we have listed out some of the best available books for passing EKT test of
AFCAT exam
.
Best Mechanical Engineering books for EKT
Arihant's Crack GATE / IES / PSUs and Other Competitive Exams with Mechanical Engineering book is one of the cheapest and best book for Engineering Knowledge Test preparation. This Arihant publication book gives an insight into mechanical engineering concepts. The book on mechanical engineering also good for preparing other competitive exams.
Best books for electrical and electronics stream of EKT
We are recommending two books for candidates who belongs to electrical and electronics stream. Both are published by Arihant publications. Handbook Series of Electrical Engineering and Electronics and Communication Engineering book by arihant are best books to study for EKT exam.
Electronics and Communication Engineering book covers the following topics.
Diode
Transistor
Analog Electronics
Integrated Circuits
Industrial Device
Signals and Systems
Communication Systems
Network Theory
Control Systems
Electromagnetic Field Theory
Antenna and Wave Propagation
Digital Electronics
Microprocessor
Material Science
Electronics Measurement and Instrumentation
Microwave Engineering
Best EKT Book for Computer Science Engineering Stream
Computer Science and IT : Crack GATE / IES / PSUs and Other Competitive Exams book is suggested for CSE stream students who are going to appear in the Engineering Knowledge Test of IAF.
This book covers all fundamentals and advanced topics which are required for competitive exams.
So here we have recommended the best EKT books to study and prepare quickly for upcoming EKT test of AFCAT exam. Though there are plenty of books available in the market for technical exams, the above books are best for preparing in less time available.

Also read