Looking for Civil Services Examination 2014 notification and eligibility criteria? UPSC has invited applications for civil services exam prelims exam. Check out eligibility criteria and last date to apply for civil services examination 2014 here.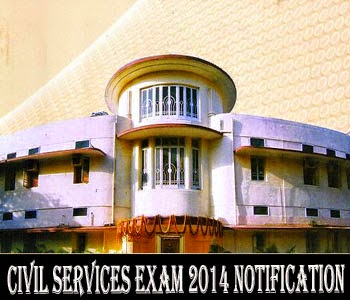 Union Public Service Commission of India helds civil services examination every year to recruit deserving candidates for the post of Group A and Group B.
Services and Posts offered through Civil Services Exam 2014
Following Services and Posts are offered by UPSC this year.
(i) Indian Administrative Service.
(ii) Indian Foreign Service.
(iii) Indian Police Service.
(iv) Indian P & T Accounts & Finance Service, Group 'A'.
(v) Indian Audit and Accounts Service, Group 'A'.
(vi) Indian Revenue Service (Customs and Central Excise), Group 'A'.
(vii) Indian Defence Accounts Service, Group 'A'.
(viii) Indian Revenue Service (I.T.), Group 'A'.
(ix) Indian Ordnance Factories Service, Group 'A' (Assistant Works Manager,
Administration).
(x) Indian Postal Service, Group 'A'.
(xi) Indian Civil Accounts Service, Group 'A'.
(xii) Indian Railway Traffic Service, Group 'A'.
(xiii) Indian Railway Accounts Service, Group 'A'.
(xiv) Indian Railway Personnel Service, Group 'A'.
(xv) Post of Assistant Security Commissioner in Railway Protection Force, Group 'A'
(xvi) Indian Defence Estates Service, Group 'A'.
(xvii) Indian Information Service (Junior Grade), Group 'A'.
(xviii) Indian Trade Service, Group 'A' (Gr. III).
(xix) Indian Corporate Law Service, Group "A".
(xx) Armed Forces Headquarters Civil Service, Group 'B' (Section Officer's Grade).
(xxi) Delhi, Andaman & Nicobar Islands, Lakshadweep, Daman & Diu and Dadra &
Nagar Haveli Civil Service, Group 'B'.
(xxii) Delhi, Andaman & Nicobar Islands, Lakshadweep, Daman & Diu and Dadra &
Nagar Haveli Police Service, Group 'B'.
(xxiii) Pondicherry Civil Service, Group 'B'.
Civil Services Examination Vacancies
Approximately 1291 vacancies are offered though Civil Services Examination 2014. Out of 1291 vacancies, 26 vacancies are reserved for physically handicapped candidates. Out of 26 PH vacancies, 12 are reserved for LDCP, 2 for B / LV and 12 vacancies are reserved for HI. Also there is reservation for candidates belonging to the scheduled castes, scheduled tribes and other backward classes.
Exam Centres of CSE 2014
Candidates applying for Civil Services Examination may choose any one of the following examination centres in India.
AGARTALA
GORAKHPUR
NOIDA
AHMEDABAD
GURGAON
PANAJI (GOA)
AIZAWL
GWALIOR
PATNA
ALIGARH
HYDERABAD
PORT BLAIR
ALLAHABAD
IMPHAL
PUDUCHERRY
AURANGABAD
ITANAGAR
PUNE
BANGALORE
JABALPUR
RAIPUR
BAREILLY
JAIPUR
RANCHI
BHOPAL
JAMMU
SAMBALPUR
CHANDIGARH
JODHPUR
SHILLONG
CHENNAI
JORHAT
SHIMLA
COIMBATORE
KOCHI
SRINAGAR
CUTTACK
KOHIMA
THANE
DEHRADUN
KOLKATA
THIRUVANANTHAPURAM
DELHI
KOZHIKODE (CALICUT)
TIRUPATI
DHARWAD
LUCKNOW
UDAIPUR
DISPUR
MADURAI
VARANASI
FARIDABAD
MUMBAI
VIJAYAVADA
GANGTOK
NAGPUR
VISHAKHAPATNAM
GHAZIABAD
NAVI MUMBAI
Exam centres for CSE preliminary examination will be allotted as per First Come First Serve basis.
CSE 2014 exam pattern
Exam pattern of Civil Services Examination is divided into two parts.
Civil Services Preliminary examination - It consists of all objective type questions.
Civil Services Main Examination - It consists of a written exam and an interview.
Candidates will be allowed to appear in Civil Services Main Exam only when they qualify in the preliminary exam.
Civil Services Preliminary Exam Eligibility Criteria
Applicant of Civil Services Examination 2014 must be Indian citizen or a subject of Nepal or subject of Bhutan or Tibetan refugee who came to India before 1st January 1962.
Age of the applicant should be between 21 and 32 years as on 1st August 2014.
Upper age limit of Civil Services Examination applicants is relaxed up to five years for SC / ST candidates and three years for OBC candidates. Five years upper age relaxation is given for candidates who had ordinarily been domiciled in J&K. Three years is relaxed for disabled defence service personnel during hostilities. Five years age relaxation is applicable for ex service men who have served in the defence for minimum five years. For blind, deaf-mute and orthopaedically handicapped persons, ten years is relaxed in the upper age limit for applying civil services exam.
Educational qualification of civil services examination 2014 applicant must be minimum degree in any discipline from recognised university.
Number of attempts to Civil Services Exam 2014
Civil Services Exam has limitations on the number of attempts. Below is the detailed information on how many attempts allowed for general, OBC, SC and ST candidates.
Maximum of six attempts can be availed by all candidates who are eligible to apply for Civil Services Examination. Earlier maximum number of attempts was limited to four chances only.
There is no limit of number of attempts for SC and ST candidates.
For OBC candidates, maximum number of chances that could be availed is nine.
Also physically handicapped candidates may avail any number of chances.
Last date for applying Civil Services Examination is 30 June 2014. All candidates need to apply online only.
Also read