Looking for NDA 132 merit list and joining instructions? Check out reporting date and service allotted for NDA 132 course here.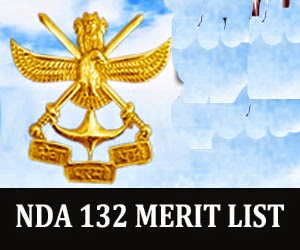 Union Public Service Commission has held the NDA NA examination last year. After conducting
SSB interviews
for candidates who have passed NDA exam, finally UPSC has released merit list for NDA 132 course.
Total 570 candidates were recommended by Services Selection Boards.
Training of NDA 132 course will be conducted at National Defence Academy, Khadakwasla.
Candidates need to take originals and attested photo copies of 10th class certificate, 12th class certificate. These certificates will be retained by Adjutant of National Defence Academy.
Candidates who have not received any joining instructions but their name is in the official list may report to NDA Khadakwasla with valid ID proof.
Candidates who do not want to join NDA 132 course may send an email confirmation to director.recruiting@yahoo.in with stating a valid reason.
Here are top 59 candidates for NDA 132 course of Indian Army.
1 107513 PRANJAL THAKUR 2314 FIT ALL XII MARKS SHEET AWAITED
2 014194 TARUN NAIR 4213 FIT ALL AIR FORCE 24-Jun-14
3 039279 AKASH K R 0010 FIT ALL AIR FORCE 23-Jun-14
4 031892 ADITYA NANDAL 1324 FIT ARMY ARMY 23-Jun-14
5 040856 PARVESH SUPEHIA 1234 FIT ARMY ARMY 23-Jun-14
6 029656 AKASH KUMAR TRIPATHI 4231 FIT NAVY NAVAC JI TO BE ISSUED BY NAVAL HQ
7 022324 RAVI KISHAN 3214 FIT ALL AIR FORCE 23-Jun-14
8 111353 GAURAV VASANT MHETRE 1234 FIT ARMY XII MARKS SHEET AWAITED
9 016170 ADEEL MOHAMMAD 1342 FIT ARMY ARMY 24-Jun-14
10 050437 KOUSTUBH DWIVEDY 2314 FIT ALL AIR FORCE 25-Jun-14
11 037112 MAYANK SHEKHAR 2341 FIT NAVY NAVAC JI TO BE ISSUED BY NAVAL HQ
12 052392 INDRAJIT RAMESH CHOUGULE 1234 FIT ARMY ARMY 23-Jun-14
13 230005 AADITYA NEEKHARA 4213 FIT ARMY ARMY 25-Jun-14
14 018485 ASHISH KUMAR 1234 FIT NAVY ARMY 23-Jun-14
15 054731 KSHITIJ SHARMA 1324 FIT ARMY ARMY 24-Jun-14
16 137026 MANGLAM SHARMA 1324 FIT ARMY XII MARKS SHEET AWAITED
17 111511 AKASH KUMAR 1324 FIT ARMY XII MARKS SHEET AWAITED
18 043734 JASHANPREET SINGH 2314 FIT ALL AIR FORCE 23-Jun-14
19 104473 SANYAM DWIVEDI 2134 FIT NAVY XII MARKS SHEET AWAITED
20 002104 RANAJOY ROY 1342 FIT ARMY ARMY 23-Jun-14
21 012436 MRINAL CHANDRA 1243 FIT ARMY ARMY 23-Jun-14
22 134042 SUJEET KUMAR SINGH 1324 FIT ARMY ARMY 23-Jun-14
23 020327 VAIBHAV SAGAR SAINI 1324 FIT NAVY ARMY 23-Jun-14
24 106394 ABHISHEK KHAJURIA 1234 FIT ARMY XII MARKS SHEET AWAITED
25 243345 SUSHANT SIROHI 2134 FIT NAVY NAVY 28-Jun-14
26 043272 KANWAR BIR SINGH DHALIWAL 3214 RMB PENDING XII MARKS SHEET AWAITED
27 029375 KUNWAR GUPTA 3412 FIT ALL AIR FORCE 23-Jun-14
28 017052 AMOL MEHTA 1324 FIT NAVY ARMY 24-Jun-14
29 004081 PRATHAM SABHARWAL 1324 FIT NAVY ARMY 23-Jun-14
30 013421 GAUTAM GARHIA 1324 FIT ARMY ARMY 24-Jun-14
31 254842 S SARATH KRISHNAN 2413 FIT ALL AIR FORCE 25-Jun-14
32 109753 ABHIJIT VAISH 2134 RMB PENDING XII MARKS SHEET AWAITED
33 101656 ASHUTOSH KUMAR 1324 FIT ARMY XII MARKS SHEET AWAITED
34 030488 AKASH CHAUDHARY 2341 FIT NAVY NAVAC JI TO BE ISSUED BY NAVAL HQ
35 009886 DEEPAK LAKRA 0010 FIT ALL AIR FORCE 23-Jun-14
36 116828 DIGVIJAY SINGH PATEL 1342 FIT ARMY ARMY 23-Jun-14
37 252125 VISHAL TIWARI 4213 RMB PENDING XII MARKS SHEET AWAITED
38 011873 VISHABH SINGH 2314 FIT ARMY ARMY 25-Jun-14
39 049153 SAURABH ANAND 1324 FIT NAVY ARMY 23-Jun-14
40 023361 GAURAV BHATT 1324 FIT NAVY ARMY 23-Jun-14
41 006270 RAHUL KUMAR 2341 FIT ARMY ARMY 23-Jun-14
42 089129 AMOL TANDON 2314 FIT ARMY ARMY 25-Jun-14
43 172021 ALI AKBAR CHOUDHURY 1234 FIT ARMY ARMY 24-Jun-14
44 084426 DESHPANDE SUMEET SACHIN 2314 FIT ALL XII MARKS SHEET AWAITED
45 029874 VIJAY PAL SINGH SRA 1324 FIT NAVY ARMY 23-Jun-14
46 228412 SHIVAM KANWAR 2314 FIT ARMY ARMY 23-Jun-14
47 106234 MAYANK KUMAR 2134 FIT NAVY XII MARKS SHEET AWAITED
48 104316 ORKHODIIP PAUL 1234 FIT ARMY XII MARKS SHEET AWAITED
49 013557 HARSH PARTAP 1243 FIT NAVY ARMY 23-Jun-14
50 126408 KUSHAGRA YADAV 2314 UNFIT IN ABS XII MARKS SHEET AWAITED
51 207430 MOHAK SHARMA 3214 FIT ALL AIR FORCE 23-Jun-14
52 201071 SHUBHAM SHAKYA 1324 FIT ARMY ARMY 23-Jun-14
53 145584 ABHISHEK 1324 FIT ARMY ARMY 27-Jun-14
54 012710 CHIRANJEEV PANT 3241 UNFIT
55 204152 NIKHIL NANDAL 2314 FIT ALL AIR FORCE 23-Jun-14
56 150757 KARTIK SHARMA 2413 FIT ALL AIR FORCE 23-Jun-14
57 041495 AKHILESH BHATT 1423 FIT ARMY ARMY 23-Jun-14
58 083149 DESHMUKH ANANT HEMANT 1234 FIT ARMY ARMY 23-Jun-14
59 117775 MANISHANKAR RAJ 1234 FIT NAVY ARMY 23-Jun-14