Looking for SCO 35 SSB interview dates? Indian Army has published SSB schedule for SCO entry today. Check out SCO 35 SSB dates of Allahabad board here.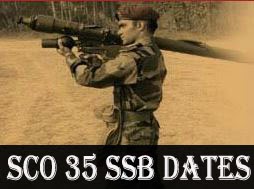 Indian Army conducts special entry for its serving soldiers to provide them opportunity to showcase Officer's Like Qualities and become an officer in the Army. SCO is one of the service entries.
Today, Indian Army has published SSB interview dates of SCO 35 course. Total 588 candidates are shortlisted for SCO SSB interviews at SSB Allahabad center.
Candidates who are shortlisted should report at MCO office at Platform No. 1 in Allahabad Junction Railway station. Reporting time is 1 PM in the afternoon.
SSB interview for SCO 35 course will commence in the month of July 2014.
<td style="border-left: no SL NO ROLL NO CANDIDATE NAME REGULAR DATE OF REPORTING 1 980017 NO 15174491X HAV RAKESH SINGH 16-Jul-14 2 980018 NO 15147028M LNK VELMURUGAN S 09-Jul-14 3 980025 NO 144253190 HAV RAJENDER SINGH 09-Jul-14 4 980026 NO 15148840Y HAV SHETE SUKHADEV DASHARATH 09-Jul-14 5 980035 NO 15170247A GNR PAPPU SINGH 07-Jul-14 6 980041 NO 15177673W HAV RAJENDRA KUMAR PANDA 07-Jul-14 7 980043 NO 15166678P HAV VINOD KUMAR 16-Jul-14 8 980044 NO JC 278275R NB SUB MANJUNATH M B 09-Jul-14 9 980045 NO 15141926P NK DIWAN SINGH DHAMI 09-Jul-14 10 980046 NO 14443390L HAV LAXMAN TYAGI 09-Jul-14 11 980047 NO 15152095F HAV PANKAJ SINGH KALAKOTI 09-Jul-14 12 980048 NO 15170761 NK SANTOSH KUMAR SINGH ll-Jul-14 13 980050 NO 15171709N HAV RAVI KUMAR TIWARI 07-Jul-14 14 980051 NO 15159748A HAV DHEERAJ KUMAR 16-Jul-14 15 980052 NO 15172737M LNK SARAVANAN K 07-Jul-14 16 980053 NO JC 278777M NB SUB PARAVEEZ HAWALDAR 09-Jul-14 17 980054 NO 15211541X LNK CHAVAN PRASAD MANIK 16-Jul-14 18 980055 NO 15165647H GNR ANJANI KUMAR ll-Jul-14 19 980056 NO 14443365M NK PATEL HEMANT VIJAYBHAI 09-Jul-14 20 980057 NO 15153189L LNK PRADEEP KUMAR VERMA 07-Jul-14 21 980074 NO 14673342K CFN KULBIR 07-Jul-14 22 980077 NO 14674620Y CFN KOUSHLENDRA SINGH BHADAURIA 16-Jul-14 23 980079 NO 14672828H CFN DEEPAK KUMAR SHARMA ll-Jul-14 24 980080 NO 14667745N HAV PRADEEP KUMAR TIWARI ll-Jul-14 25 980085 NO 14674329M CFN SATYA PRAKASH SINGH 17-Jul-14 26 980089 NO 14652156A HMT PRASHANT PRANAW ll-Jul-14 27 980090 NO 14671243H CFN RAVI KUMAR 16-Jul-14 28 980092 NO 14643815H HMT JAGADISH D ll-Jul-14 29 980095 NO 14659495H CFN SUMAN DAS MANIKPURI 09-Jul-14 30 980096 NO 14674822A SEP MIHIR RANJAN PRADHAN 16-Jul-14 31 980097 NO 14662061N NK UMESH KUMAR SINGH 16-Jul-14 32 980100 NO 14649748Y HMT AJAI KUMAR SINGH ll-Jul-14 33 980102 NO 14645855H HMT RANJEET SINGH 04-Jul-14 34 980103 NO 14671041F LINK SANDEEP KUMAR 06-Jul-14 35 980104 NO 14667218M CFN KARAM VEER Ol-Jul-14 36 980106 NO 15157645H HAV BIDYUT ROY 09-Jul-14 37 980107 NO 7781359M NK INFANT D'SOUZA D 09-Jul-14 38 980111 NO 15614969H HAV SANJIV KUMAR 09-Jul-14 39 980113 NO 13627312X NK SRIKANT SINGH YADAV 07-Jul-14 40 980114 NO 15496165N NK RAHUL 16-Jul-14 41 980116 NO 5251589W HAV VIVEKANAND ll-Jul-14 42 980117 NO 10467387L LNK RAJIV KUMAR 09-Jul-14 43 980119 NO 7782250Y LNK L AM IT KISHORE SINGHA ll-Jul-14 44 980120 NO 7781922N LNK KAMAL KUMAR PATHAK 09-Jul-14 45 980121 NO 7782047H LNK JITENDRA KUMAR PRADHAN 07-Jul-14 46 980122 NO 7782578A LNK SATYANARAYAN JENA 16-Jul-14 47 980124 NO 14679700A CFN SATNAM SINGH 16-Jul-14 48 980126 NO 15171204X NK PUSHPENDRA MISHRA Ol-Jul-14 49 980134 NO 15214289P HAV (SKT) SUDHIR KUMAR 07-Jul-14 50 980136 NO 15159615K HAV (CLK/SD) AJAY SINGH TANWAR 04-Jul-14 51 980137 NO 15170438P HAV (CLK/SD) RAM SHARAN CHOUDHARY Ol-Jul-14 52 980138 NO 15201639X GNR (GD) SODHI RAM Ol-Jul-14 53 980143 NO 15178491P HAV (CLK/SD) MAHESH KUMAR 16-Jul-14 54 980147 NO 15177806F HAV (CLK/SD) VIVEK KUMAR YADAV 16-Jul-14 55 980148 NO 15162584A HAV (CLK/SD) DHARMVEER YADAV 04-Jul-14 56 980149 NO 15179230N HAV (CLK/SD) ANIL KUMAR 17-Jul-14 57 980150 NO JC280114A MN SIN (AIG) SATISH KUMAR 06-Jul-14 58 980152 NO 15148080F HAV (TA) BHANU PRATAP SINGH 06-Jul-14 59 980159 NO 14670770X CFN SURENDER PUNIA ll-Jul-14 60 980163 NO 14646445Y NK SANDEEP KUMAR ARELA 16-Jul-14 61 980164 NO 14669538A NK SANJEEV KUMAR 09-Jul-14 62 980165 NO 14681038P CFN PRABHAT SINGH CHAUHAN 17-Jul-14 63 980166 NO 14681372W CFN MANOJ KUMAR 07-Jul-14 64 980167 NO 14687042N LNK ASHOK KUMAR 07-Jul-14 65 980169 NO 14684826K LNK MANMOHAN SINGH SOLANKI 17-Jul-14 66 980170 NO 14681387Y CFN VIDYA SAGAR REDDY 07-Jul-14 67 980173 NO 14682017L CFN ARVIND KUMAR SINGH 07-Jul-14 68 980174 NO 14666625H NKTARKESHWAR NATH SHUKLA 17-Jul-14 69 980177 NO 15500897K LD P SANTOSH KUMAR REDDY 17-Jul-14 70 980180 NO 15494341F SWR SAJIN K V 17-Jul-14 71 980181 NO 15498557A SWR SANDEEP KUMAR SINGH YADAV 07-Jul-14 72 980182 NO 15481159H LD PRAKASH CHAND 09-Jul-14 73 980183 NO 15486398F ALD MANOJ KUMAR 17-Jul-14 74 980191 NO 15490589N DFR NAVNATH MOHAN GUND 04-Jul-14 75 980192 NO 15490103X DFR/SKT SANDEEP KUMAR HOODA 07-Jul-14 76 980193 NO 15483414H DFR/CLK (SD) SANJU THAKUR 04-Jul-14 77 980194 NO 14653777L HMT MAKDE KISHOR PRABHAKAR 06-Jul-14 78 980195 NO 14679254K CFN RAJESH KUMAR 07-Jul-14 79 980198 NO 14677977A CFN VIMAL SINGH ATTRY Ol-Jul-14 80 980200 NO 14648030H HAV A MAN 1 KAN DAN Ol-Jul-14 81 980202 NO 14669945H CFN JESIL K 17-Jul-14 82 980204 NO 15484461M DFR/SKT SUSHIL KUMAR 04-Jul-14 83 980206 NO 3408428X NK VARINDER SINGH 17-Jul-14 84 980207 NO 14444620A NK CHANDAN KUMAR Ol-Jul-14 85 980208 NO 14673022P LOC NK SANJIVE KUMAR TIWARI Ol-Jul-14 86 980213 NO 14669560L L/NK ACHHAR SINGH JAMWAL Ol-Jul-14 87 980214 NO 14653793H HMT SARAVANAMURUGAN B 04-Jul-14 88 980215 NO 14678774H CFN NARENDER SINGH 07-Jul-14 89 980221 NO 1464827Y CFN SMRUTI RANJAN RATH A 07-Jul-14 90 980224 NO 14670797P NK PRAVIN KUMAR TIWARI 17-Jul-14 91 980226 NO 14667866P CFN BIPADTARAN KAR 06-Jul-14 92 980228 NO 14668854M CFN VINEET KUMAR DUBEY 06-Jul-14 93 980230 NO 14671246W NK TANVEER HUSAIN 16-Jul-14 94 980231 NO 14671230L NK/UPA ADITYA PRATAP SINGH 07-Jul-14 95 980235 NO 14682228N CFN DEEPAK PAUL 06-Jul-14 96 980237 NO 14681896X CFN BRAJESH KUMAR 17-Jul-14 97 980238 NO 14670824N NK/UPA PUNIT KUMAR 16-Jul-14 98 980239 NO 14681669X CFN/ARMT AMAR SHUKLA 07-Jul-14 99 980248 NO 14668441H NK GOPAL DATT 09-Jul-14 100 980257 NO 14652409K NK BHAGVAN DAS 09-Jul-14 101 980280 NO 15501140N SEP RAJU SINGH 16-Jul-14 102 980288 NO 15483473P ALD PRAJESH K 06-Jul-14 103 980289 NO 15491043A SWR NUTAN KUMAR SHARMA Ol-Jul-14 104 980294 NO 6947433K HAV VINAY LOKHANDE 16-Jul-14 105 980296 NO 6947486H HAV M SENTHIL Ol-Jul-14 106 980297 NO 6944969A SEPOY SUMIT 07-Jul-14 107 980298 NO 6947981F HAV VIJAY SINGH Ol-Jul-14 108 980299 NO 6947991L HAV NAMEIRAKPAM PREMCHANDRA SINGH 04-Jul-14 109 980300 NO 6948525H HAV BHAGIRATH BISHNOI Ol-Jul-14 110 980302 NO 6949394P HAV/CLK/IM SUDHANSU SHEKHAR BHOI Ol-Jul-14 111 980305 NO 6949941Y HAV ANIL KUMAR SAHOO 06-Jul-14 112 980308 NO 15811775Y HAV/CLK/IM SAKSHI GOPAL KABIRAJ 06-Jul-14 113 980311 NO 15812196Y HAV/CLK/IM SAROJ KUMAR Ol-Jul-14 114 980312 NO 15812203K HAV FARIQUL ISLAM MONDAL Ol-Jul-14 115 980313 NO 15813815N HAV S. RAMESH KUMAR RAO 16-Jul-14 116 980316 NO 15144986P NK BIJESH PV 06-Jul-14 117 980317 NO 15202568N JEEVAN RAJ S 06-Jul-14 118 980320 NO 15163620M HAV/RST AJAY KUMAR SHUKLA Ol-Jul-14 119 980322 NO 6945461X HAV BHASKAR MISHRA 04-Jul-14 120 980324 NO 6947589F HAV MAHESH KUMAR 09-Jul-14 121 980326 NO 6948306F HAV JITENDRA KUMAR SHARMA ll-Jul-14 122 980328 NO 6947353M HAV AMIT KUMAR YADAV ll-Jul-14 123 980330 NO 15812903X SEP ANUP SINGH YADAV 17-Jul-14 124 980331 NO 15813749W NK ROSHOK MOYA NEKAM 06-Jul-14 125 980332 NO 6943771K HAV PAVAN SHARMA 04-Jul-14 126 980334 NO 6946334P HAV VAMSHI KRISHNA VEJENDLA Ol-Jul-14 127 980338 NO 6943449X HAV MRITYUNJOY ROY 09-Jul-14 128 980339 NO 15811670P HAV DESHMUKH R A 16-Jul-14 129 980340 NO 6948406M HAV MANTHAN ll-Jul-14 130 980342 NO 6945636P HAV LAXMAN SINGH BISHT 09-Jul-14 131 980344 NO 6947039Y SEP PRAMOD KUMAR SINGH Ol-Jul-14 132 980345 NO 15812625P L/NK CHIRANJIVI KUMAR 17-Jul-14 133 980346 NO 6948311M HAV VIJENDRA KUMAR GAJRAJ ll-Jul-14 134 980349 NO 6947660K HAV ANAND DIXIT Ol-Jul-14 135 980350 NO 15811714F HAV ROHIT KUMAR ll-Jul-14 136 980351 NO 6942834P HAV SHIVSHANKAR PAL 04-Jul-14 137 980352 NO 6948250A HAV ARJUN PAWAR 06-Jul-14 138 980353 NO 6948417Y HAV CHAUHANA JITENDRA SINGH 17-Jul-14 139 980354 NO 15813665H NK CHUNCHUN KUMAR 06-Jul-14 140 980355 NO 6945287W HAV SATISH KANT SHARMA Ol-Jul-14 141 980356 NO 6942604F HAV SHYAMAL SARKAR 04-Jul-14 142 980358 NO 15791180X GNR KRISHAN KUMAR 07-Jul-14 143 980360 NO 15777686L LNK/DS ONKARAPPA HR 06-Jul-14 144 980362 NO 15783280N LNK/OFC SHINTO JOY 16-Jul-14 145 980363 NO 15784427L LNK/OPR MRIDUL KUMAR NATH Ol-Jul-14 146 980364 NO 15785539X LNK/OPR PATIL ST Ol-Jul-14 147 980365 NO 15776252Y GNR ABHILASH A 06-Jul-14 148 980367 NO 15790072F GNR HIMANGSHU RAJBANGSHI 16-Jul-14 149 980370 NO 15790637F GNR BISWAJIT RAJ KUMAR 16-Jul-14 150 980371 NO 15787726P LNK MADHAB CHETRY 09-Jul-14 151 980373 NO 15790071Y GNR NURISLAM AHMED ll-Jul-14 152 980379 NO 15787370M HAV SANDEEP KUMAR ll-Jul-14 153 980380 NO 15784506A L/NK SOBIN S ll-Jul-14 154 980384 NO 15785920L NK BOMMANA SIVA PRASAD RAO 17-Jul-14 155 980385 NO 15786780W NK SATISH VERMA 16-Jul-14 156 980388 NO 15785235A L/NK GANESH PRASAD PAIKRAY 16-Jul-14 157 980389 NO 15781505M L/NK RAJPUT RADHESHYAM 16-Jul-14 158 980390 NO 15782635F NK SANJEET KUMAR PANDEY ll-Jul-14 159 980391 NO 15775051N LHAV BONGU JAGGU BABU 04-Jul-14 160 980398 NO 15789343F NK VIJAY KUMAR DUBEY 09-Jul-14 161 980399 NO 15790117W NK RAJEEV KUMAR CHOUHAN Ol-Jul-14 162 980400 NO 15788716X HAV DHARMENDRA SINGH PARIHAR 07-Jul-14 163 980404 NO 15786069K NK RWMWI BORGOYARY Ol-Jul-14 164 980405 NO 15493662M SWR VED PRAKASH 17-Jul-14 165