Wondering when AFCAT 2 2014 results will be published by Indian Air Force? AFCAT 2 2014 exam was held on 31 August 2014. Results of AFCAT 2 2014 exam will include EKT exam results also.
Update : AFCAT 2 2014 results announced by IAF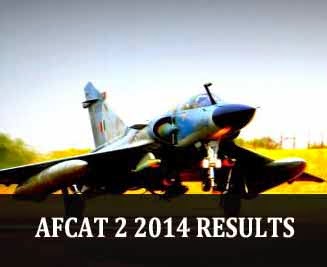 Air Force Common Admission Test
this time included
Engineering Knowledge Test
for those aspirants who appeared for Aeronautical engineering branch commissioning. Exam was conducted successfully in the month of August by the Indian Air Force.
AFCAT 2 2014 results announcement by IAF
AFCAT 2 2014 results
will be announced by Indian Air Force in the month of October 2014. Most probably the result of
AFCAT 2 2014 exam
will be published in the second week of next month. Results will be based on
AFCAT 2 2014 cut off marks
. Also this result will include EKT exam cut off for engineering students. There is one month remaining for official announcement of AFCAT 2 2014 results. Thus, we suggest all aspirants who have appeared in the AFCAT exam to not worry about the results now and start their preparation for the
SSB interview
.
What to do before AFCAT 2 2014 results are announced?
Many candidates waste their time in waiting for the
AFCAT results
. As you have appeared in the exam, you may get shortlisted by the IAF for 5 day SSB interview. So we suggest that do not waste your time but start your preparation for the next level i.e., your AFSB interview. There will be no harm even if you do not qualify in the AFACT 2 2014 results. You will be able to go ahead among others next time when you pass the exam.
Also it will give you ample time to have SSB coaching if you want to attend. We will publish AFCAT 2 2014 results as they are announced officially by the IAF. So till then start your homework for SSB interview.
Also read
Best books to pass SSB interview
Best SSB coaching academy for SSB
Common mistakes during SSB interview