Applied for JAG 14 course and looking for centre allotment list? Indian army has published centre allotment list for SSC 14 women course.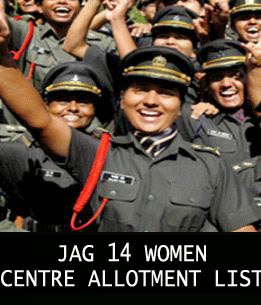 Indian Army has released Judge Advocate General (JAG) Women 14 course for candidates who want to build career in Indian Army as advocates.
Today Indian Army has published list of centre allotment for
SSB interview
. There are total 1262 candidates shortlisted for SSB interviews.
1 900002 HANS 14/08/1991 Bangalore
2 950003 Simran 02/08/1993 Bangalore
3 950004 komica 23/07/1990 Bangalore
4 950005 Stupti Banerjee 29/12/1992 Bangalore
5 950006 SHRUTI SHUKLA 31/07/1988 Bangalore
6 950007 DHARA SINGH 06/05/1988 Bangalore
7 950008 Sayantani Datta 25/07/1991 Bangalore
8 950009 Pallavi 07/05/1990 Bangalore
9 950010 Purnima D N 10/01/1988 Bangalore
10 950011 SUSHVI 25/07/1988 Bangalore
11 950012 Munmun Jha 26/07/1990 Bangalore
12 950013 SHUKTI NAG 15/10/1988 Bangalore
13 950014 SUNITA CHETRY 09/10/1990 Bangalore
14 950015 ANKITA PRADHAN 12/03/1991 Bangalore
15 950016 PRATIBHA 28/10/1990 Bangalore
16 950017 Ritika Passan 16/03/1990 Bangalore
17 950018 ASHIANA SIDDIQUEE 10/06/1990 Bangalore
18 950019 shilpi rani 31/03/1990 Bangalore
19 950020 SHIKHA 06/09/1988 Bangalore
20 950021 REETIKA WADHWA 02/05/1990 Bangalore
21 950022 Surya 20/03/1989 Bangalore
22 950023 Minal Kaushik 19/06/1989 Bangalore
23 950024 sahiba choudhary 09/04/1990 Bangalore
24 950025 Vaishali Sharma 13/08/1990 Bangalore
25 950026 SARBANI SARKAR 01/10/1989 Bangalore
26 950027 renu singhal 02/02/1991 Bangalore
27 950028 HARSHITA DESHWAL 25/12/1991 Bangalore
28 950029 RANJANA KUMARI 13/01/1990 Bangalore
29 950030 VRIDHIKA MAYAR 14/09/1989 Bangalore
30 950031 KURRA ANEESHA CHOUDARY 29/07/1991 Bangalore
31 950032 Malavika Mitta 25/10/1991 Bangalore
32 950033 KAVITA 16/04/1989 Bangalore
33 950034 ananya 13/12/1990 Bangalore
34 950035 M P PRIYANKA 21/03/1992 Bangalore
35 950036 SONU PANDEY 03/03/1993 Bangalore
36 950037 S Divya 10/05/1990 Bangalore
37 950038 Marphy Hiloidhary 17/06/1990 Bangalore
38 950039 DILNA D B 16/05/1990 Bangalore
39 950040 KARISHMA TAMTA 11/02/1990 Bangalore
40 950041 VARSHA PUROHIT 16/04/1989 Bangalore
41 950042 ANUSHA PABBI 06/04/1991 Bangalore
42 950043 SARASWATHIS 26/10/1993 Bangalore
Also read