Facing errors while trying to fill up AFCAT 1 2015 online application form? Check out common mistakes that AFCAT applicants do while applying for AFCAT 1 2015 here.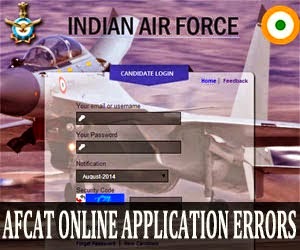 Dear AFCAT aspirants, we recieve many requests and queries regarding errors by the aspirants while submitting the online applications for
AFCAT exam
. Last time, we launched a campaign to help candidates who are unable to submit their AFCAT 2/2014 exam for any reason.
While we were trying to submit the application on behalf of the aspirants, we found that there were very minute errors which candidates did unknowingly.
However, our team successfully submitted online applications for most of the candidates.
This time too after AFCAT 1 2015 notification, we started to recieve many queries and complaints. Most of the aspirants are querying on how to resize their passport size photo so that it can be uploaded in the AFCAT online application form.
We also got many queries regarding the correct selection of educational qualification and choice of IAF branch.
So here are few helpful guides which will solve your queries.
AFCAT 2 2014 online application errors - This will help you in understanding the common errors that were encountered by the aspirants with solutions. Also there are two videos on how to submit the AFCAT application form correctly.
AFCAT registration errors. This will help those AFCAT aspirants who are not able to register for AFCAT exam.
Need help in submitting AFCAT application?
If you still feel that you are not able to submit the online application for AFCAT 1 2015 exam, then send the AFCAT login ID, password, error message and other required details to our email ID i.e., webmaster@ssbinterviewtips.in so that we can have a look at it. After sending the details, do leave a comment below so that we could act fast. PS. When you send your passwords, try to set them to simple password such as test@123 etc. We will try our best to sort out your errors but we don't guarantee 100%. We are not associated with AFCAT officials.
Also read