Contest by SSB interview tips team.
Here is our first contest in 2015.
Contest is very simple. When you prepare for SSB interview, you read many books, attend coaching and discuss with your friends about the interview. In the process of preparing for
cracking the SSB interview
, you get fairly an idea on how to crack it. If you have an idea which can help other SSB aspirants to crack the SSB, then share it with us and you could win Flipkart vouchers.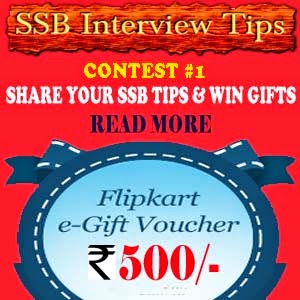 You need not necessarily have cracked the SSB interview to guide others. If you think you have best ways to perform well in the interview, you can share it. So go on and send us your entries.
Multiple entries are allowed. So you can send us as many as articles as you wish to increase the chances of winning more vouchers.
Prizes
1 Winner will get Flipkart voucher worth 200 rupees.
3 runners up will get Flipkart vouchers worth 100 rupees each.
Ideas for writing
You can write on any topic that is related to the SSB interview. For easiness, we are providing few suggested topics here.
How to write good PPDT / TAT story.
Top 5 tips to write good WAT answers.
How to dress for the SSB interview?
Best way to complete individual obstacles test.
etc
Submission guidelines
Your entry should not be copied from any website or book.
Your article should have minimum 400 words.
Entry to the contest should be free from spelling, grammatical errors and should follow correct punctuation.
Your entry will be published on our website after the contest closes.
How to participate?
Just write down your article with a good title and send us your articles at webmaster@ssbinterviewtips.in or you can directly write your article in the below form. Loading...
Last date to submit your entries is 15 Feb 2015.
Winners will be announced shortly after the last date and Flipkart vouchers will be dispatched to the winners.
Have doubts? Do leave a comment.