India's first indigenous fighter aircraft Light Combat Aircraft Tejas was inducted in IAF on 17 January 2015. LCA Tejas is considered as a replacement to Mig 21 aircraft.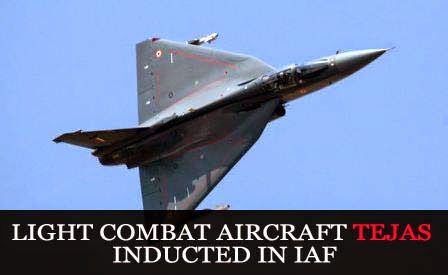 On Saturday, Indian Air Force was relieved to some extent as much awaited indigenous aircraft Light Combat Aircraft Tejas developed by HAL was successfully inducted.
As IAF has left with only 34 squadrons against the sanctioned 42 squadrons, Tejas induction has boosted up the morale of Air Force officials and also increased air combat capability.
Though there was a long delay in the induction of Tejas aircraft, the induction came at a right time. Three decades ago Tejas aircraft project was approved by the government.
Test flights of Light Combat Aircraft Tejas was successfully held in Jamnagar and Jaisalmer bases of Indian Air Force earlier in 2014. Defence Minister Manohar Parrikar handed over the LCA Tejas to IAF in a ceremony held at Bangalore. Also Defence Minister has called for more research in developing and enhancing the technology.
Chief of Air Staff Air Chief Marshal Arup Raha also expressed his happiness to get the much awaited Light Combat Aircraft Tejas in to the IAF.
Till now HAL has accomplished 60% indigenisation of LCA aircraft. HAL has planned to deliver six aircraft in 2015-2016. Also in 2016 - 17, 8 LCA aircraft will be handed over to the IAF. Whereas, in 2017-18, 16 aircraft will be produced and delivered.