NDA 134 SSB interview center allotment list has been published by the Army. If you have passed NDA NA exam for NDA 134 course, then check out which SSB center you have allotted for appearing in the interview.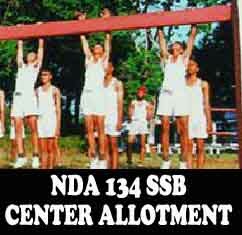 Recently UPSC has released NDA NA exam results. All qualified candidates for Indian Army now have to attend
5 days SSB
at any one of the selection centers located in Allahabad, Bhopal and Bangalore.
NDA 134 SSB centers
SL NO. UPSC
ROLL NO. NAME OF CANDIDATE PREF CENTRE
1 000011 RISHABH DEV MISHRA 1243 BHOPAL
2 000017 ALKESH KUMAR SINGH 1324 BHOPAL
3 000036 ABHIJIT MISHRA 3214 AFSB
4 000054 PRITISH MISHRA 3214 AFSB
5 000064 GAGANDEEP SINGH DHAMI 2310 AFSB
6 000089 ADITYA SINGH RATHORE 1324 BHOPAL
7 000090 NAVDEEP CHOUDHARY 2143 NAVAL BOARD (NAVY)
8 000163 DALVI NIMISH TUSHAR 3214 AFSB
9 000174 ATHARVA SHIRISH KULKARNI 1423 BHOPAL
10 000267 PAWAN KUMAR SHUKLA 1423 BHOPAL
11 000276 AYUSHKAM PANDEY 1324 BHOPAL
12 000339 RAVI KHATRI 2413 AFSB
13 000430 SHASHI KUMAR 2134 NAVAL BOARD (NAVY)
14 000433 ANUJ SAXENA 2314 AFSB
15 000435 SHIVTEJ SAWANT 3214 AFSB
16 000444 ADHYAN BISHNOI 4213 AFSB
17 000454 SHUBHAM BHUTANI 3214 AFSB
18 000462 ROHAN PURI 1203 BHOPAL
19 000485 RAVI VANIYA 2314 AFSB
20 000486 KISHAN GARAIYA 1324 BHOPAL
21 000489 JITENDER SINGH 1000 BHOPAL
22 000501 ISHAN BANDYOPADHYAY 1324 BHOPAL
23 000523 NITIN TYAGI 4321 NAVAL BOARD (NAVAC)
24 000540 HARSH CHAWLA 1324 BHOPAL
25 000547 MUNNA KUMAR 1324 BHOPAL
26 000558 SANKET AGRAWAL 1243 BHOPAL
27 000593 S SAI GANESH 1234 BHOPAL
28 000597 ANKIT 1432 BHOPAL
29 000598 KAILASH SINGH KATHAYAT 1234 BHOPAL
30 000649 SACHIN AFARIA 1203 BHOPAL
31 000675 ALOK TRIPATHI 3214 AFSB
32 000682 SHUBHAM KUMAR SHUKLA 2314 AFSB
33 000709 SHAILESH MISHRA 2314 AFSB
34 000714 AJAY KR CHOUDHARY 2314 AFSB
35 000718 HARSHDEEP SINGH SOHI 1203 ALLAHABAD
36 000723 AVNISH KUMAR 1324 BHOPAL
37 000750 ANSHUL KUMAR 2134 NAVAL BOARD (NAVY)
38 000753 MUKUL KUMAR 1234 BHOPAL
39 000779 PRADYUMNA SHAILENDRA MARATHE 2314 AFSB
40 000802 ABHIJEET PANDEY 1234 BHOPAL
41 000803 SAURABH SHARMA 3124 NAVAL BOARD (NAVY)
42 000805 ANKUR GOHIT 0231 NAVAL BOARD (NAVAC)
43 000808 SANJAY KUMAR SHARMA 3241 NAVAL BOARD (NAVAC)
44 000825 SHIVANG AGRAWAL 2314 AFSB
45 000827 PRANAV RAGHAV 2314 AFSB
46 000839 VAIBHAV NEGI 2314 AFSB
47 000867 NIKIT CHAUHAN 1324 BHOPAL
48 000869 ABHISHEK RANJAN 2314 AFSB
49 000910 UTKARSH BARU 3124 NAVAL BOARD (NAVY)
50 000913 NIRAJ NITIN INGAVALE 1234 BHOPAL
Also read