Qualified in UES 24 SSB interview? Check out the documents and undertaking certificate to be submitted by all candidates who are recommended for UES 24 course.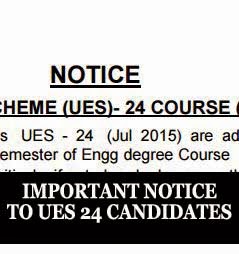 UES 24 course is about to commence on 6th July 2015 at Officers Training Academy, Chennai.
Recently the Indian Army has held SSB interview for UES 24 course and recommended few candidates for the course.
As UES course is exclusive for the pre final year students. So candidates need to submit photocopies of engineering degree semester marks sheets and a certificate from their college stating that their engineering degree will complete by July 2015.
Documents to be submitted by candidates recommended for UES 24 course
All candidates who have been shortlisted for UES 24 course should submit the following documents before 01 June 2015.
Photocopies of 1st to 7th semester marks sheets of Engineering degree.
A certificate by the college principal or other authority stating that the engineering course will complete by 01 July 2015.
Above documents should be sent to the following address.
Dte Gen of Rtg (UES Entry), West Block - III, RK Puram, New Delhi, PIN - 110066. Candidates should write "UES-24 Edn Certificates" on the top of the envelope. Candidates who fail to submit the above required certificates to the UES directorate may get rejected by the Indian Army. So go on and send the documents in time to avoid any problem.