Check out highlights of business deals finalised during PM Narendra Modi's China tour. India has inked 26 business agreements amounting to $22 billion.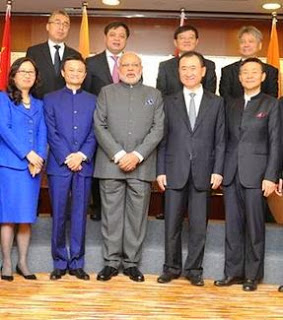 PM Narendra Modi's visit to China is proving to be a super good business dealing and a friendly gesture toward China.
Complete list of business deals made with China
Here is the list of all 26 business deals that are signed during the India - China business forum. India's Welspun Energy Pvt. Ltd. and Chinese Trina Solar will jointly setup PV Indistry Park for production of 500 MW Photovoltaic Solar Module in India as a boost to Make-in-India. Renewable energy will get boost with MoU between Axis Energy Ventures India Pvt. Ltd. and Chinese Mingyang Wind Power and Global Wind Power. An integrated PV industrial park in Mundra SEZ will be established by Adani Group and Golden Concord Holdings Ltd. Also gas power generation and natural gas industry will get hefty investments. MoU has been signed to set up a Solar Cell and module manufacturing facility by Essel Solar and JA Solar. An agreement to generate 5000 MW solar power and manufacturing of solar modules in the next five years has been signed and for this purpose, Sun group and Canadian Solar (CSI) Solar Power China Ltd will work together. An offshore delivery centre will be established in Dalian by Wipro BPS and Dalian Municipal People's Government & Yida China Holding Ltd. Financing to equipment under license of TRAI will be made by Bharti Airtel Ltd. and China Development Bank. An agreement has been signed for financing for purchase of equipment from ZTE and Huawei by Bharti Airtel Ltd. and China Development Bank. MoU has been signed between GMR group and Guizhou International Investment Corporation to setup Industrial Park in Kakinada SEZ for hi-end Chinese equipment manufacturers. One Industrial Park will be set up in Gujarat. Autolite India Ltd. and Jinway Import & Export Co Ltd. will strive to manufacture high tech capital goods in India. APL Mundra Power Plant Phase I, II and III will be financed by China Development Bank to Adani Power Ltd.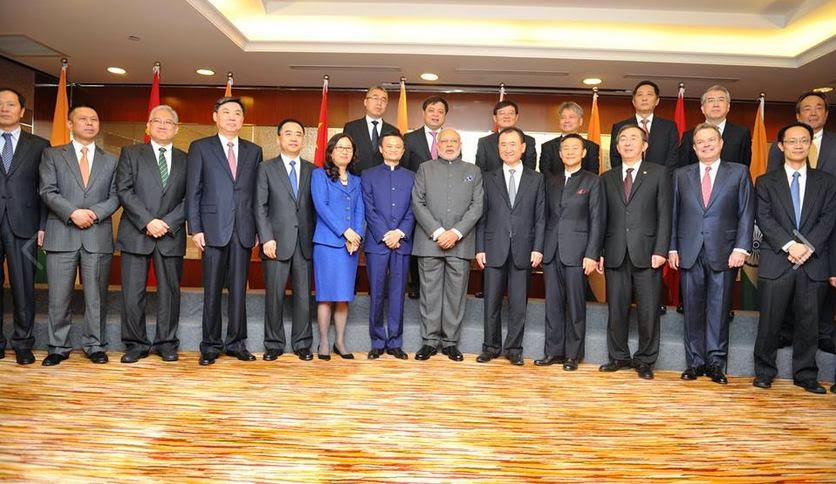 Indian PM Narendra Modi along with Chinese CEOs MoU signed between ICBC and Infrastructure Leasing and Financial Services Ltd. MoU between Bharti Airtel and ICBC for credit facility has been signed. Nana Layja 4000 MW Thermal Power (Coal) Project will be setup in India with the help of China Huaneng Group. MoU between Jindal Steel and Power Ltd. and ICBC on development of potential projects. Integrated Steel Project will come in Gujarat with Welspun Group and CNTIC (China National Technical Import and Export Corporation). CNTIC will also help the BPSL Hot-rolled Steel Coil project. "Sister - Port" relationship between Mundra Port and Guangzhou Port by Adani ports and SEZ Ltd & Guangzhou Port Authority. Mutual development and exploration in opportunities in Indian and Chinese film market will be done by Eros group and Shanghai Film Corporation. Xuan Zang film will be co-produced by Eros group and China Film group. MoU to jointly build China India Information Service Industry Corridor in Qiannan Autonomous Prefecture. An institutional agreement has been signed between Confederation of Indian Industry (CII) and the Provincial Government of Guizhou for promoting Indian IT companies participating in IT projects. An instituational agreement has been signed to connect Indian and Chinese private sector companies. NIIT China and Gui'an New Administrative Committee, Guizhou province has agreed to cooperate in IT sector. Aarvee Associates Architects Engg & Consultants Pvt Ltd and China Railway SIYUAN Survey & Design Group Co. Ltd has signed partnership agreement. So above 26 deals were signed by India and China as part of PM Narendra Modi's visit to China. Hope this will contribute to good relationship between the neighboring countries, India and China.