SSC NT 102 SSB dates published by the Army. Applied for SSC NT 102 course and looking for Allahabad SSB dates? Check out list of candidates who have been shortlisted by the Indian Army for SNL 102 SSB interview at Allahabad selection centre.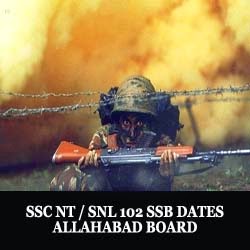 Indian Army has published list of 1695 candidates who are shortlisted for
five day SSB interview
.
SSB interview for final selection to SNL 102 course will be held by Allahabad SSB board of the Indian Army.
SNL 102 SSB dates
1 126 PARAS JOT SINGH SAINI 20-Dec-91 23-May-15 8-Jun-15
2 152 KIRTI RATAN BHATELE 10-Jan-93 18-May-15 6-Jun-15
3 183 GAURAV SHARMA 15-Feb-91 20-May-15 6-Jun-15
4 188 MOHIT KUMAR 8-Nov-93 21-May-15 6-Jun-15
5 189 AKASH 9-Feb-96 2-Jun-15 8-Jun-15
6 198 SANGRAM VIJAY PAWAR 27-May-94 30-May-15 8-Jun-15
7 327 ATUL KUMAR YADAV 21-Aug-90 13-May-15 6-Jun-15
8 403 AMIT KUMAR 14-Sep-93 21-May-15 6-Jun-15
9 492 KARAN MANRAL 21-Feb-92 16-May-15 6-Jun-15
10 641 SOUMYA KANTI DUTTA 21-Dec-91 23-May-15 8-Jun-15
11 659 PANKAJTHAKUR 14-Sep-93 21-May-15 6-Jun-15
12 687 ANURAG SHARMA 20-Jan-96 2-Jun-15 8-Jun-15
13 696 AKSHAY KUMAR 27-Jan-95 30-May-15 8-Jun-15
14 697 REEJHUL DWIVEDI 16-Mar-93 18-May-15 6-Jun-15
15 799 RAJEEV RANJAN 10-Mar-94 2-Jun-15 8-Jun-15
16 874 ANIRUDHA SINGH 16-Sep-90 13-May-15 6-Jun-15
17 968 ISHAN BANSAL 7-Dec-90 31-May-15 8-Jun-15
18 981 KUMAR SHANU 12-Feb-93 18-May-15 6-Jun-15
19 984 DAHALE MONOJ KUMAR 28-Aug-91 26-May-15 8-Jun-15
20 992 NKHIL KUNDRA 3-Jan-91 31-May-15 8-Jun-15
21 1051 AMIT RATHI 15-Jan-91 20-May-15 6-Jun-15
22 1055 VIVEK RANJAN SINGH RAWAT 15-Apr-91 26-May-15 8-Jun-15
23 1075 ABHISHEK KUMAR SINGH 7-Aug-90 13-May-15 6-Jun-15
24 1080 DHEERAJ KUMAR SINGH 12-Jul-90 13-May-15 6-Jun-15
25 1198 NISHANT SINGH 25-Jan-92 16-May-15 6-Jun-15
26 1311 ALOK RATNOO 25-Mar-92 23-May-15 8-Jun-15
27 1361 ROHAN KUNDU 6-Sep-93 21-May-15 6-Jun-15
28 1380 KULKEERTY SINGH NARWAR 6-May-92 16-May-15 6-Jun-15
29 1382 LAXMI NARAYAN PRADHAN 23-May-92 16-May-15 6-Jun-15
30 1403 DAMANBIR SINGH SEKHON 19-Oct-93 21-May-15 6-Jun-15
31 1405 MANIKANT KUMAR 2-Feb-93 18-May-15 6-Jun-15
32 1711 DHRITMAN ROY 6-Mar-94 2-Jun-15 8-Jun-15
33 1754 ROHIT MISHRA 23-Jul-91 15-May-15 6-Jun-15
34 1805 KARTIK UPADHYAY 17-Sep-92 28-May-15 8-Jun-15
35 1898 DHYANENDRA SINGH 1-Jul-92 16-May-15 6-Jun-15
36 1931 RAKSHIT RUSTAGI 1-Sep-90 13-May-15 6-Jun-15
37 2138 SAHIL SAEED 31-Mar-92 23-May-15 8-Jun-15
38 2183 VINAY YADAV 25-Dec-92 18-May-15 6-Jun-15
39 2237 MANU BHARDWAJ 5-Oct-91 26-May-15 8-Jun-15
40 2380 ZAFAR HAIDER 1-Jul-93 31-May-15 8-Jun-15
41 2415 SATYAVIR SINGH 5-Aug-90 13-May-15 6-Jun-15
42 2431 RAVI KUSH 10-Oct-91 26-May-15 8-Jun-15
43 2444 MAYANK UPADHYAY 5-Jan-91 20-May-15 6-Jun-15
44 2477 RAVINDER 19-Apr-91 26-May-15 8-Jun-15
45 2664 SAPTARSHI BANERJEE 12-Mar-93 18-May-15 6-Jun-15
46 2709 AMIT KUMAR 1-Jan-93 18-May-15 6-Jun-15
47 2750 ABHISHEK ARYA 20-Sep-92 28-May-15 8-Jun-15
48 2768 PARDEEP KUMAR 14-Dec-94 30-May-15 8-Jun-15
49 2779 MRINAL SINHA 8-Oct-90 31-May-15 8-Jun-15
50 2825 SIDDHARTH BAHUGUNA 15-Mar-92 16-May-15 6-Jun-15