Unable to attend SSB coaching due to busy schedule? Here is a boon for working professionals and SSB aspirants who cannot attend regular SSB coaching.
  SSB interview is considered as one of the toughest interviews in our country. Apart from the toughness, many candidates get puled when they appear for
SSB interview
for the first time.   Candidates who attend coaching from quality institute will be able to guess the actual SSB testing procedure.   Many candidates thinks that every coaching institute guides about the SSB interview correctly and there is nothing new in different SSB coaching centers. Although the knowledge shared by most of the SSB interview coaching centers does cover all the tests that are held by the SSB board, many institutions lack space and facilities to demonstrate the same.   Only a handful coaching centers like
SSB Gurukul
,
Baalnoi Academy
,
Col. Dagar Academy
etc., do actually provide the coaching with correct demonstration of SSB interview tests.   There might be no candidate who doesn't know about Dr. (Cdr) NK Natarajan when it comes to SSB coaching. Dr (Cdr) NK Natarajan is famous for his book
SSB interview - the complete guide
and his SSB Gurukul coaching center.   After conducting many batches and interacting with thousands of candidates who want best SSB coaching, Cdr Natarajan realized that most of the aspirants are not able to attend the SSB coaching due to lack of time.   Thus, Dr. (Cdr) NK Natarajan thought of providing best SSB video tutorial for the young aspirants who cannot attend the SSB coaching due to many reasons.   Finally, Cdr NK Natarajan is out with his uniue and best SSB coaching video tutorial i.e., SSB Interview - The Complete Training Kit.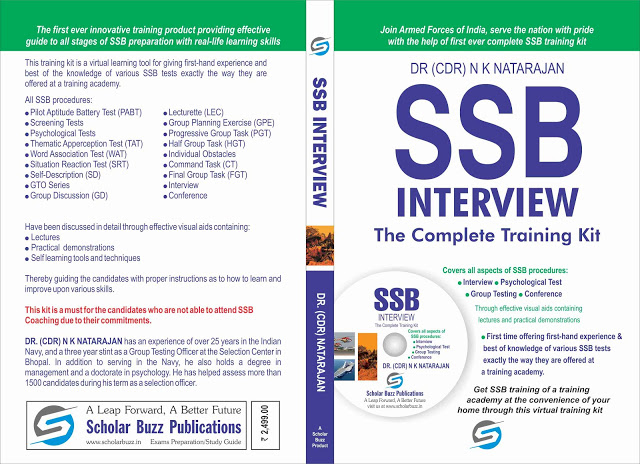 Effective visual aids related to lectures, self learning tools and techniques have been provided in the SSB video tutorial.   Also aspirants can see the practical demonstration and tips related to the SSB interview in detail.   So if you are not able to attend the SSB coaching due to any commitment, then it is best to buy the
SSB Interview - The Complete Training Kit
by Cdr NK Natarajan to get thorough idea about the SSB interview.   The SSB video tutorial is available online in Amazon website as of now.