Check out how to fill up AFCAT OMR answer sheet. Read on to know about few simple instructions to avoid mistakes in AFCAT OMR answer sheet.
AFCAT 1/2016
is scheduled on 24th February 2016. Candidates have to answer the AFCAT question paper in OMR answer sheet.
IAF has issued guidelines to fill up the OMR answer sheet of AFCAT 1 2016 exam.
Here is the sample of AFCAT answer sheet.
As shown in the above specimen of AFCAT OMR answer sheet, candidates need to circle the ovals provided in the answer sheet.
Candidates must use blue or black ball point pen to darken the ovals. Pencil should not be used.
Candidates should completely darken the corresponding ovals.
Once an oval is darkened, candidate cannot change the option.
Candidate should be careful to not make any stray marks on the answer sheet.
AFCAT OMR answer sheet must not be used for rough work.
Candidate should not fold or tear the OMR answer sheet.
There is negative marking system in AFCAT exam. For every correct answer, you will get three marks and for every one incorrect answer you will loose one mark.
Candidate should not write anything or mark anything on the AFCAT 1/16 question paper.
Candidate should not use any unfair means in AFCAT examination hall.
Here is a sample of filled up AFCAT OMR answer sheet.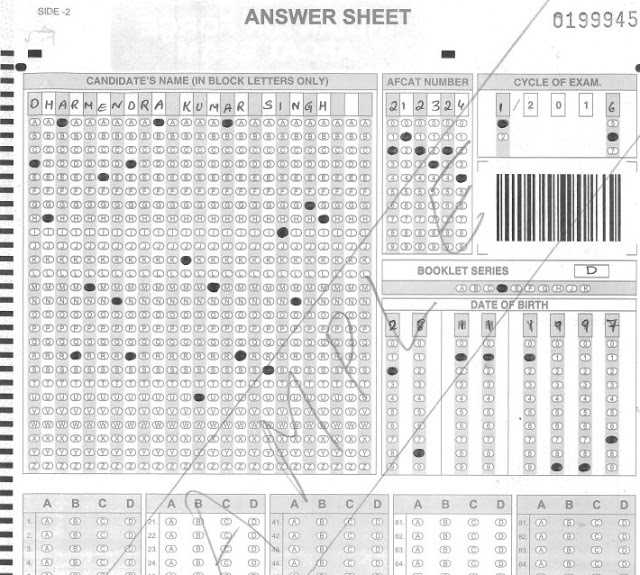 Thus, if you are appearing in AFCAT 1/16 exam, please follow the above guidelines to avoid mistakes.