Check out brave acts of Lance Nail Mohan Goswami AC of 9th Batallion.
Bravery of one soldier inspires thousands of soldiers. Lance Naik Mohan Goswami, AC of 9th Battallion has displayed the tremendous quantum of bravery and was honoured withAshok Chakra, India's highest peacetime gallantry award. Read to know what made Lance Naik Mohan Goswami, AC a fantastico brave soldier.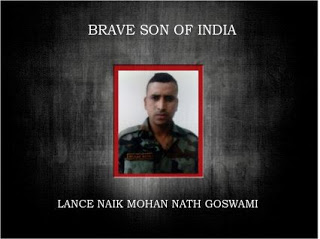 Brave Martyr - Lance Naik Mohan Nath Goswami
Courtesy - www.indianarmy.nic.in
I learned that courage was not the absence of fear, but the triumph over it. The brave man is not he who does not feel afraid, but he who conquers that fear. - Nelson Mandela
A lean and thin boy from Nainital was eagerly waiting at the entrance of an Army recruitment center. It took his complete energy to get through the toughest series of physical and written test to qualify for the Indian Army as a soldier. The seventeen year old boy was confident that he will make it to the merit as he recounted his past days practicing vigorously for this day.
As expected, Mohan Goswami, the teen from Nainital has got an appointment letter from the Indian Army to join the training. All the family members were rejoicing over the selection, not for the job but for the thought of a son who would serve for the nation.
Goswami has volunteered to serve for the country while his friends were enjoying their collegehood and day dreaming. Within few months Goswami was in the Army training center and was learning many new things which includes firing a rifle, surviving in the jungle etc.
Goswami believed in the famous quote of Cinese philosopher Sun Tzu - the more you sweat in peace, the less you bleed in war. Soon after completing his training, he volunteered for the Indian Army's elite Para Commando Regiment in the year 2002. From that point Goswami's life changed a lot.
Being a commando is not at all an easy task. It demands extraordinary amount of physical stamina and an unparalelled attitude. Many soldiers give up their dream of becoming commando while they undergo the harshest training due to injuries which make them unfit for being the commando.
From the joining, Goswami lead a great life as a commando.
But the last eleven days of his life has made not only made Goswami's bravery a memorable one but also made the nation proud.
Yes the last 11 days of Lance Naik Mohan Goswami, AC has made whole nation to stand by him for his valour and sacrifice to the nation.
On the 23rd August 2015, after receiving a call, Lance Naik Mohan Goswami with his team went to fight against the hardcore terrorists in Khurmur area of Handwara. In the operation, three Laskar-e-Toiba terrorists were killed and averted the major danger.
Then Lance Naik Mohan Goswami volunteered for the second operation in Rafiabad, Kashmir. Second operation held over two days on 26th and 27th August 2015 was also a huge success where three terrorists were killed and one terrorist was caught alive.
On the night of 2nd September 2015, Lance Naik Mohan Goswami was once again in the action as part of an ambush team in Haphruda forest at Kupwara district of Jammu & Kashmir. There was an intelligence report about suspected terrorists hiding in the thick forest.
All of a sudden, four terrorists started firing at the ambush team. Two of the ambush team soldiers were injured in the fierce firing. Then Lance Naik Mohan Goswami and Subedar Mahendra Singh, Sena Medal decided to risk their own lives in order to save their colleagues.
The duo were successful in killing one terrorist but soon after Subedar Mahendra Singh was also injured. Then at this juncture Lance Naik Goswami moved forward and was hit in his thigh. Despite the bullet hit, he killed one terrorist and injured another terrorist.
By now there was heavy firing coming towards the Lance naik. Then a second bullet hit Mohan on his abdomen and was bleeding profusely. Withstanding all the pain, Lance Naik Mohan Goswami killed the third terrorist at point blank range.
Thus for the supreme sacrifice of Lance Naik Mohan Goswami, the Indian President Pranab Mukharjee awarded the Ashok Chakra, India's highest peacetime
gallantry award
to Mohan posthumously.
Thus the great valour and bravery of Lance Naik Mohan Goswami made him a fantastico brave soldier in my opinion.
What do you say?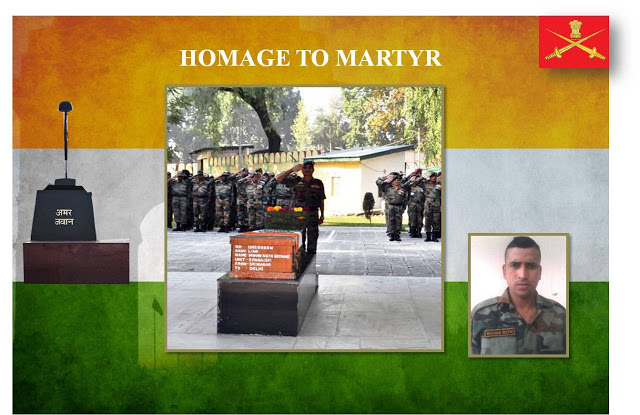 Homage to Brave Martyr - Lance Naik Mohan Nath Goswami
Courtesy - www.indianarmy.nic.in