Second prototype of the Light Utility Helicopter LUH-PT2 successfully completed its maiden flight today. Read on to know more about Light Utility Helicopter LUH-PT2 of Indian Army.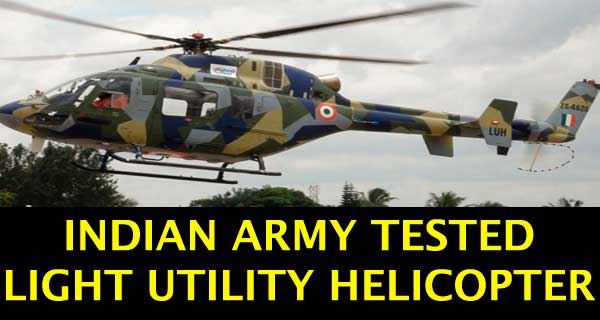 The second prototype of the Light Utility Helicopter, named as LUH-PT2 completed its maiden flight.
This came after the recent first flight of the Hindustan Turbo Trainer, HTT-40 basic aircraft last week and LUH-PT1 earlier this year. The first flight of LUH PT1 was carried out on 6th September 2016 and again during the international air show Aero India-2017 held in February 2017.
The LUH-PT2 chopper was flown by Chief Test Pilot Wing Cdr (Retd) Unni K Pillai. He was assisted by Test Pilot Wing Cdr (Retd) Anil Bhambhani. The sortie lasted for 22 minutes. No snags were reported during or after the flight.
About Light Utility Helicopter, LUH-PT2
The LUH-PT2 is a new generation helicopter being indigenously developed by HAL.
The helicopter, which is suited for operating in small areas, performed several manoeuvres.
It weighs 3 tonnes and comes with a Glass Cockpit.
It will be deployed for Reconnaissance, Surveillance roles and as a light transport helicopter.
The LUH-PT2 will replace the more than 3 decades old fleet of Chetak and Cheetah helicopters.
The LUH is also being developed to eye the domestic and international market, apart from the military use.
HAL has already developed Advanced Light Helicopter (ALH) Dhruv and the Light Combat Helicopter (LCH).
Tech Specs of the Helicopter
The helicopter will be capable of flying at 220kmph.
The service ceiling of 6.5km. This will enable the aircraft to fly to India's highest posts in Siachen Glacier Sector.
The range of 350km with a 400-kg payload.
Powered by HAL's own single turboshaft engine.
It has a modified tail boom and improvements from LUH-PT1.
About Hindustan Aeronautics Limited (HAL)
Hindustan Aeronautics Limited (HAL) is an Indian state-owned aerospace and defence company governed under the management of the Indian Ministry of Defence.
It is based at Bangalore, Karnataka.
The company deals with manufacturing and assembly of aircraft, navigation and related communication equipment and airports operation.
HAL has an annual turnover of over US$2 billion. More than 40% of HAL's revenues come from international deals to manufacture aircraft engines, spare parts, and other aircraft materials.
Some of the aircraft that HAL indigenously develops are:
HAL Tejas
HF-24 Marut
Su-30MKI
HAL Dhruv- Advanced Light Helicopter
Light Combat Helicopter (under trial)
Light Utility Helicopter (under development)
Indian Multi-role Helicopter (under development)
Rudra - Attack helicopter