Check out number of terrorist attacks and soldiers martyred in terrorist attacks on Indian Army, Navy and Air Force. Also read compensation given by Indian government to families of martyred soldiers.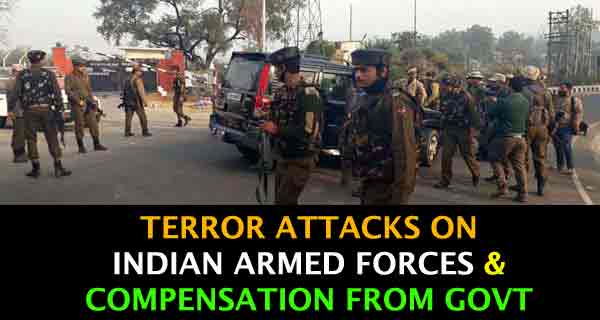 There is a constant ongoing battle of state-sponsored terrorism like the one Pakistan is doing, with the armed forces and the population of a country. India's case is special because, apart from terrorism, the Indian forces have to tackle home-grown threats like the rise of Maoism and Naxalism with a never-ending battle in Kashmir.
Here are the details of terrorist attacks on Army since 2014 and the total number of soldiers who lost their lives on borders and in various terrorist attacks in the country including Jammu and Kashmir:
Year

No. of Attacks

No. of Soldiers died

2014

10

38

2015

11

67

2016

15

68

2017

(till 15th March)

03

13
5% of direct recruitment quota vacancies is provided to the dependent family members of Government servants, both civilian as well as Armed Forces personnel who are martyred during service and those who retire/boarded out on medical grounds in Group 'C' posts.
However, there is no separate quota for next of kin of martyred armed forces personnel. The next of kin of martyred soldiers are given compensation as per existing policies as follows:
MONETARY BENEFITS ENTITLED TO THE NEXT OF KIN OF BATTLE CASUALTY (FATAL):
The information, facts and figures are sourced from the Government of India records as it is and no changes have been made and the following has not been edited in anyway whatsoever. Hence, we do not guarantee the correctness of the following figures.
The following monetary benefits/compensation to the NoK being paid as per Government order are given below:
| | |
| --- | --- |
| (a) | Liberalised Family Pension as applicable to Battle Casualty which is equal to emoluments last drawn by the deceased individual. |
| (b) | Death-cum-Retirement Gratuity which is based on length of service rendered and emoluments last drawn by the deceased individual. |
| (c) | Army Group Insurance Fund:- |
| | | |
| --- | --- | --- |
| | Upto 30th September 2016 | w.e.f. 1st October 2016 |
| Officers | Rs. 60 Lakhs | Rs. 75 Lakhs |
| JCOs / OR | Rs. 30 Lakh | Rs. 37.5 Lakhs |
(d)

Army Group Insurance Maturity which is based on the contribution made by the deceased Army personnel.

(e)

Army Wives Welfare Association Fund:

(i) Officers - Rs. 10,000/-.

(ii) JCOs / OR - Rs. 15,000/-.

(f)

Army Officers' Benevolent Fund:

(i) Officers - Rs. 50,000/-.

(ii) JCOs / OR - Not applicable.

(g)

Army Central Welfare Fund - Rs. 50,000/-.
(2) Ex-gratia lump sum compensation from Central Government:
| | | |
| --- | --- | --- |
| (a) | Death in the course of the performance of duties attributable to acts of violence by terrorists, anti-social elements etc. | - Rs. 25 Lakhs. |
| (b) | Death occurring in border skirmishes and action against militant, terrorists, extremists, sea pirates. | - Rs. 35 Lakhs. |
(3) Other benefits:
| | |
| --- | --- |
| (i) | Education Concession Card. |
| (ii) | Air Travel Concession Card. |
| (iii) | Telephone Concession. |