Recently terrorists sneaked into an Army camp at Nagrota and killed seven Army personnel on 29th November 2016. Indian Army has found out how the terrorists have entered the Army camp of Nagrota. Check out how the terrorists sneaked in cause damage.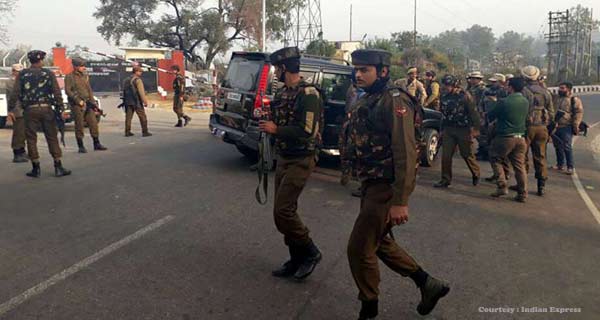 On 29th November 2016 seven soldiers were martyred while fighting with the terrorists at the Army camp at Nagrota. The Nagrota Army camp terrorist attack took place in the wee hours and after killing the sentry at the rear gate, the terrorists have entered into the camp area.
After collecting inputs from various security agencies and relating them with each other, Indian Army has figured out how the terrorists successfully entered Army camp at Nagrota.
According to the information three terrorists have first sneaked into the Indian territory at Hiranagar of Kathua district. One ICom wireless set which is used for communication among terrorists was recovered in Hiranagar. Incidentally the frequency of ICom set recovered matched with that of the other ICom sets recovered from the killed terrorists at Nagrota Army camp.
An alarming fact about the Nagrota camp is haunting the Army and other security agencies. For the first time, terrorists have used a silencer fitted gun to kill the main sentry deployed at the rear gate of Army camp of Nagrota.
Terrorists made use of thick vegetation and used it as a cover to sneak in silently. After the sentry was killed, he fall down. Soon terrorists began heavy firing. As someone noticed the situation, Nagrota Army camp was put on high alert and with the help of night illuminators it was found that the terrorists have entered nearby two story building which was housing families of soldiers posted at the base.
It was a hostage like situation. But with the great amount of bravery shown by the families, the terrorists could not enter into any house. Commandos were rushed in to evacuate the families struck in the building to avoid human loss.
But by the attack was tackled, seven soldiers including two officers were killed in the action.
Also agencies are believing that there might be some local aid to the terrorists who were responsible for the terrorist attack in Nagrota.