Indian Air Force regularly engages itself in bilateral exercises with friendly nations. Check out code names of Indian Air Force exercises and countries participating.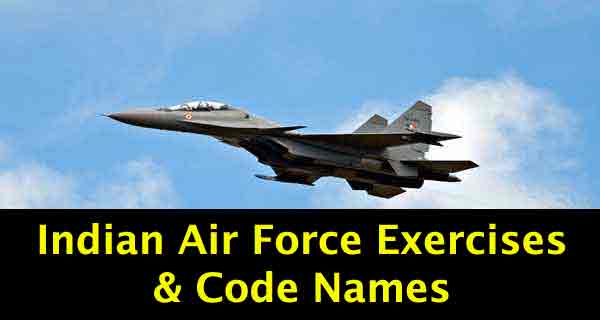 Indian Air Force is the world's fourth largest Air Force. With a manpower of 1,40,139 active personnel, it has about 1,720+ aircraft in active service. It is one of the biggest powers in the South Asian region.
To maintain its reach to its neighbours and to be in the top-notch condition, the IAF regularly participates in various exercises with friendly foreign countries on a regular basis. Most of these exercises are bilateral and are held annually.
Joint Exercises conducted by Indian Air Force
Here are the Joint Exercises conducted by Air Force.
Exercise GARUDA-V: The "Garuda" series of air exercises is an important aspect of the Indo-French bilateral military cooperation. The bilateral defence relationship is a cornerstone of the strategic partnership between France and India, established in 1998.
Exercise EASTERN BRIDGE-IV: This exercise is conducted between the Air Forces of India and Oman. This exercise did not only enrich the IAF and RAFO (Royal Air Force of Oman) professionally but culturally also as the Omani people and Indians share a similar culture. The Exercise provides an opportunity of rich interaction between the personnel of both countries.
Exercise AVIA INDRA: This exercise is the Air Force part of Exercise Indra, held between India and Russia. Exercise Avia Indra focuses on the IAF and Russian Air Force joint participation. Indra-Neva is the Naval component of the exercise Indra between Indian and Russian Navies.
Exercise JOINT MILITARY TRAINING: Exercise JMT is held between India and Singapore Air Forces. It has grown in complexity over the years to involve advanced fighter aircraft from both air forces and high-end training missions such as Dissimilar Air Combat Training and Mission-Oriented Training.
Exercise SIAM BHARAT: The aim of this bilateral exercise between Indian Air Force and Royal Thailand Air Force is to evolve SOPs for planning and executing relief missions during unforeseen natural calamities. It enhances interoperability between both the Air Forces while conducting combined air operations triggered by a crisis.
Exercise DESERT EAGLE: 'Desert Eagle' is the bilateral air combat exercise between India and UAE. The bilateral air combat exercise provides exposure towards mission planning and execution in a simulated high threat combat environment, apart from building bonhomie with friendly Air Forces of India and United Arab Emirates (UAE).
Exercise INDRADHANUSH-IV: This is a bilateral exercise held between Indian Air Force and Royal Air Force of UK. The fourth iteration of the exercise was held in the UK, with the British and Indians conducting the exercise alternatively. The last time the Indians deployed to the U.K. was in 2007.
Exercise RED FLAG: Exercise Red Flag is an advanced aerial combat training exercise hosted at Nellis Air Force Base, Nevada. Only countries considered friendly towards the United States take part in Red Flag exercises. So far, 34 countries to have participated in these exercises. India has participated twice in 2008 and 2016.
Here is a summary of all the joint air exercises of IAF with foreign countries:
| | |
| --- | --- |
| Exercise | Held With |
| GARUDA-V | France |
| EASTERN BRIDGE-IV | Oman |
| AVIAINDRA-14 | Russia |
| JOINT MILITARY TRAINING | Singapore |
| SIAM BHARAT | Thailand |
| DESERT EAGLE-II | UAE |
| INDRADHANUSH-IV | UK |
| RED FLAG | USA |