401 cadets inducted into Indian Army after Indian Military Academy passing out parade on 10 December 2016. Check out complete details about passing out parade held at IMA.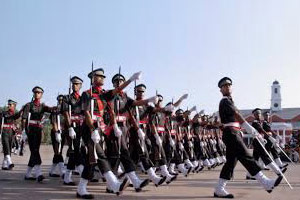 IMA Dehradun passing out parade ceremony
Indian Military Academy, Dehradun is one of the premier military training institutions in India. Whenever training of a batch completes, passing out parade is held at IMA Dehradun to mark the event. After passing out parade, all cadets who have successfully completed the training will be commissioned into various branches of Indian Army as officers.
Today, total 401 cadets who have completed their training participated in the passing out parade ceremony at Indian Military Academy, Dehradun. There were another 53 foreign cadets batch took part in the passing out parade of IMA. These foreign cadets belong to the friendly nations and come to IMA for training purpose.
The passing out parade was held in front of Chetwode building of IMA Dehradun. Highlight of the Passing out Parade is the showering of rose petals from helicopter on the IMA drill square. Turnout of each and every individual cadet was exceptional and drill movements with perfect coordination made the event more spectacular.
Deputy Chief of Army Staff Lieutenant General Narinder Pal Singh Hira was the Reviewing Officier of the Passing out Parade held at Dehradun IMA. Incidentally Lt Gen Narinder is also an alumni of IMA Dehradun.
In the address to cadets, the Deputy Chief of Army Staff reminded them that the IMA is one of the best training academies and all cadets are lucky to get training at this premier institute. Also he urged all cadets to stay motivated and give their best to the country.
The cadets ended their training life by crossing the landmark "Antim Pag" (Meaning last step) of IMA Dehradun and entered a new world as commissioned officers. Crossing the Antim Pag is a memorable moment for every cadet passed out from the Indian Military Academy.
The Sword of Honour was awarded to Cadet Pratyush Mohanty. Academy Cadet Adjutant Rajagopal Naidu bagged the gold medal.