Indian Navy rescued many stranded tourists from Havelock island of Andaman Nicobar islands. Check out Indian Navy rescue operation of Havelock island here.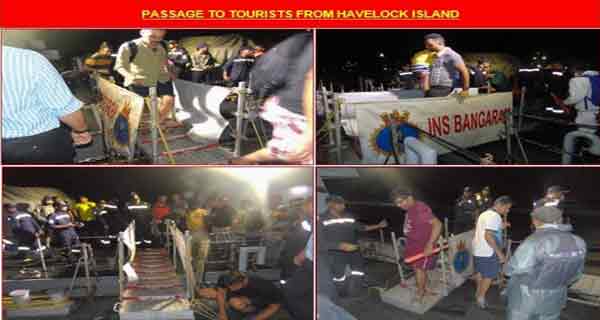 Rescue Operation By Indian Navy
Havelock island is one of the most beautiful islands of Andaman and Nicobar islands. There is heavy rain fall in Andaman and Nicobar islands which had made it difficult for boats to ferry to and from islands. On 17th September 2017, civil ferry MARKRUZZ had developed a snag in the hull prompting to cancellation of return ferry from Havelock islands to Port Blair.
Many tourists were stranded in the Havelock island due to cancellation of civil ferry and also weather was continuously becoming worse. Considering the fact that many passengers have to board their return flights on the morning of 18th September 2017 from Port Blair.
Civil Administration of Port Blair decided to call in Indian Navy for ferrying out of stranded tourists in Havelock island. As soon as Indian Navy got a rescue call, two Indian Naval ships INS Bangaram and a fast attack craft class ship INS Battimaly were sent on the rescue mission to Haveock island.
Braving rough weather and heavy rains, the two ships of Indian Navy reached Havelock and ferried out total 24 civilainn tourists which includes 10 ladies, 10 men and 4 children.
Incidentally 54 officers from Defence Services Staff College were visiting the Havelock island and were palnning to return to Port Blair by the ferry MARKRUZZ. As MARKRUZZ was cancelled, all the 54 officers were stranded in the Havelock island. Indian Navy promptly embarked all the 54 officers on the ship.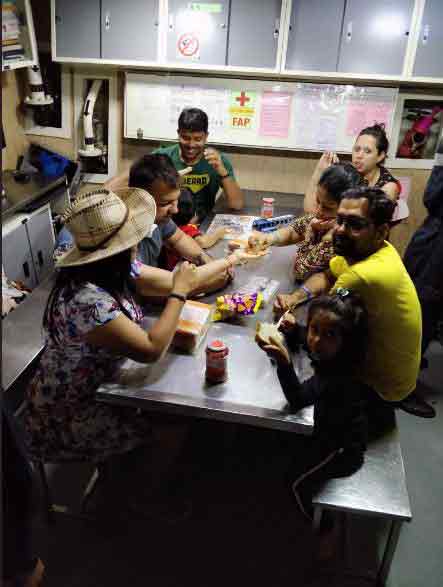 Total 78 tourists who were stranded in Havelock island on 17th September 2017 were rescued and ferried back to Port Blair by the Indian Navy.
Indian Navy also went one step ahead in assisting the stranded tourists and dropped them at their hotels safely.
Prompt and brave action with in shortest possible time is commendable and further glorifies Indian Navy.