ISRO has made world record of placing 104 satellites in one go. PSLVC37 launch rocket was used to carry 104 satellites and has placed them into the space. Check out complete details of world record of ISRO.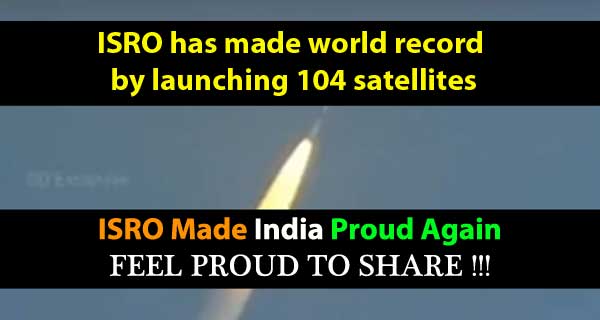 ISRO's World Record of launching 104 satellites
Indian Space Research Organisation ISRO has entered in the book of world records by launching 104 satellites successfully in to the space.
At 0928 AM, ISRO has started the launch of 104 satellites.
The satellites belonged to many countries and most of the satellites were of 4 to 5 Kg weight. In future, we could see more and more smaller satellites i.e., nano satellites getting launched into the space.
Earlier Russia had the record of most satellites launched in a single attempt with 37 satellites launched in a single mission. Now ISRO has achieved this world record by launching 104 satellites in a single attempt.
ISRO has successfully launched 104 satellites from its Shriharikota space centre. PSLV-C37 launch vehicle was used to launch the satellites. Incidentally PSLV-C37 is one of the most successful satellite launch vehicles in the world.
The launch is not only important for India but also for the world as it is a big leap in the world of space technology. More satellites launched at one go will mean lesser launch costs to all countries. Also for India also it is very beneficial financially.
Out of 104 satellites, only 3 satellites were of India and rest 101 satellites belonged to foreign countries. Here is the breakdown of satellites launched by the ISRO.
| Country | No of satellites |
| --- | --- |
| India | 3 |
| USA | 96 |
| UAE | 1 |
| Switzerland | 1 |
| Netherlands | 1 |
| Kazakhstan | 1 |
| Israel | 1 |
| Total | 104 |
Out of 104 satellites that are launched successfully by ISRO, 101 are nano-satellites.
India has the following 3 satellites placed into the space.
Cartosat-2 series satellite : Cartosat-2 series satellite is the heaviest satellite among the 104 satellites launched by ISRO on 15 February 2017. It will be used for earth observation.
INS-1A & INS-1B : INS-1A and INS1B are nano-satellites of India and will be used for conducting experiments.
A mammoth 104 satellites launch in a single mission has once again proved the capability of ISRO and India in the world of space research.