IAF pilot jobs for NCC C Certificate holders. Indian Air Force has invited applications from NCC men and women cadets for pilot job. Check out eligibility criteria to become a pilot in Indian Air Force with NCC C Certificate.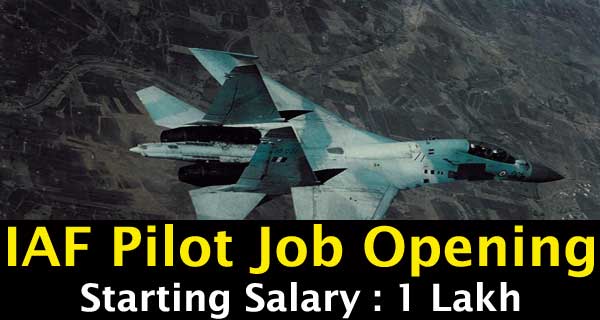 Eligibility Criteria
Who can Apply? Women
Minimum Age Limit : 19 Yrs
Maximum Age Limit : 25 Yrs
Last Date To Apply : 15 Jun 2017
Other Qualifications Required :
NCC 'C' Certificate for applying IAF pilot NCC Special Entry scheme is compulsory.
After many years, IAF offered a special entry for NCC women cadets who are holding C certificates. The cadets can directly apply for the SSB interview without writing any exam for becoming a pilot in the Indian Air Force.
Indian Air Force pilot job is a very prestigious job and also requires high level of skills. As an NCC cadet, one inculcates many Officer Like Qualities while serving in the NCC. It is worth mentioning that NCC cadet with OLQs is a great asset for not only Indian Air Force but also for Navy, Army and other defence / police organisations. NCC cadets need not to be taught defence etiquette and values as they already have it.
So to take advantage of this Indian Air Force has invited applications from both men and women NCC cadets for pilot posts in IAF.
Officially NCC Special Entry for IAF pilot job notification will be published on official website of Indian Air Force and also in the Employment News on 20th May 2017.
The applications for NCC special entry to become a pilot in Indian Air Force will be accepted by online mode only from 20th may to 15th June 2017.
The process of the recruitment of CDS comprises of written test and SSB interview followed by a medical test for the selected candidates. Through this entry Women holding NCC certificates can directly attend the SSB interview.
So here is the golden opportunity for all NCC C Certificate holders to become a pilot in the Indian Air Force and serve the nation.
Salary of an Indian Air Force pilot is very handsome especially after the Seventh Pay Commission came into effect.
Also read : Salary of IAF pilots after Seventh Pay Commission
---