NCC Special Entry 42nd course notification has been released by the Indian Army. Check out eligibility criteria and selection procedure here. Also check out how to fill up NCC special entry course application.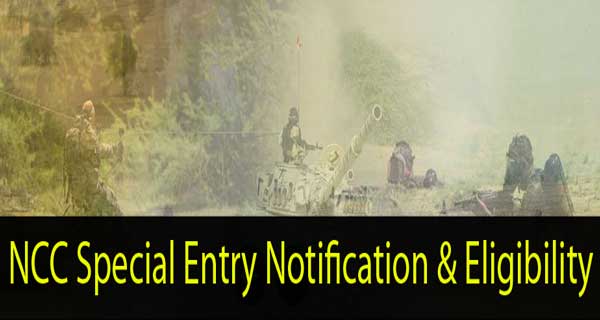 Eligibility Criteria
Who can Apply? Both Men and Women
Minimum Age Limit : 19 Yrs
Maximum Age Limit : 25 Yrs
Qualification :
Last Date To Apply : 15 Feb 2017
Other Qualifications Required :
N/A
NCC Special Entry of Indian Army
Indian Army recruitment drive consists of a special entry exclusive for NCC cadets and is called as NCC Special Entry Course. NCC special entry is a golden gateway for all aspiring NCC cadets to join the Indian Army as an officer. Also wards of Battle Causalities of Army Personnel are eligible to apply even without NCC certificate.
Here is the eligibility criteria and selection process for the candidates who apply for Indian Army NCC Special entry.
Eligibility Criteria of NCC Special Entry course
Both men and women are eligible to apply for the course.
Age Limit
Age of the applicants must be between 19 to 25 years.
Nationality
Indian citizen can apply.
Educational qualification required for NCC cadets
Graduation with minimum 50% marks is must for applying to NCC special entry scheme. Final year students can also apply. Applicants must have served in the senior Division or Wing of NCC for two or more academic years. Also applicants must have graded minimum B Grade in C certificate exam of NCC.
Educational qualification for Ward of Battle Casualties of Army Personnel
A bachelors degree with minimum 50% is must for applying. NCC C cetrificate is not required if you are a ward of battle casualty of Army personnel. Applicants under this category must have relevant documents as a proof.
Number of vacancies in 42nd NCC special entry course
There are total 54 vacancies offered by the Indian Army and following is the breakdown of the vacancies.
45 for male NCC cadets.
5 seats reserved for male wards of battle casualties of Army personnel.
03 seats for female NCC cadets.
01 vacancy is reserved for female ward of battle casualty.
NCC Special Entry Selection Process
NCC Special entry selection process is similar to other officer entries of Indian Army. First applicants will fill up the applications and after last date gets over, Indian Army HQ will shortlist applicants based on their academics.
All candidates who get shortlisted will be called for SSB interview. SSB interview is the final hurdle to become an officer in the Indian Army.
Check out SSB interview procedure of Indian Army
Once you pass the SSB interview you will face medical test. Once you are declared medically fit to join the Indian Army, you will get a call letter.
How to apply for NCC Special Entry Course
All applicants except wards of battle casualties must fill up online application of NCC Special Entry from the official website of Indian Army recruitment. Go to www.joinindianarmy.nic.in and click on Officers Entry Apply / Login link.
You will be taken to the online application portal of Indian Army. Here if you are first timer, register on the website with your email ID.
Check out registration procedure on the Indian Army website for officers jobs.
After registration login with your credentials and select 42 NCC special entry course. Application of 42nd NCC special entry course will be displayed where you have to fill up the details.
Once you fill up all details, you need to submit the online application.
After successful submission you need to wait for the list of shortlisted candidates for SSB interview.
So go on and apply for NCC 42nd special entry course of Indian Army.
---