M777 howitzer is an Ultralight-weight Field Howitzer used by powerful armies to fight with enemies. Check out M777 howitzer cost and capabilities. Also insights of all M777 howitzer variants given.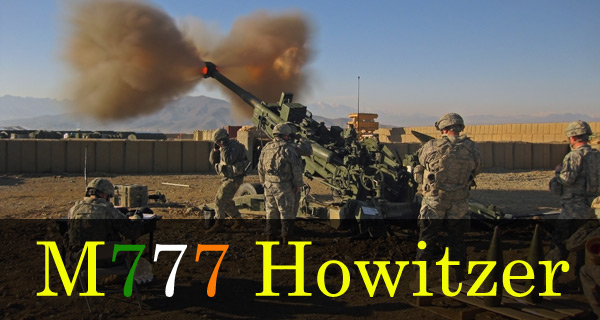 Update : M777 deal signed by Indian Government on 30 November 2016.
M777 howitzer is 155mm artillery manufactured by BAE Systems and is being used by the major armies of the world. United States of America started using the M777 howitzer from 2005 and still this piece of artillery considered most successful. The US Army started using M777 howitzer for the first time in the War in the Afganistan. Presently apart from USA the M777 howitzer is used by Canada and Australia. Soon India will also get its hands on M777 howitzer.
M777 Design and Technical Specifications
Year of Inception
2005
First Used By
United States of America
Currently used by

US Marine Cops

US Army

Canadian Army

Australian Army

Indian Army

Weight

4,200 Kg

Length

10.7 m in combat

9.5 m in travel

Barrel Length

5.08 m

Crew Required To Operate

7+1

Shells Used

M107, M795, ERFB, M982

Caliber

155 mm

Rate of fire

2 rpm in normal

5 rpm maximum

Effective firing range

24 Km with M107 shell

30 Km with ERFB shell

40 Km with M982 (Excalibur
The M777 howitzer is an ultralight weight field howitzer. Before M777, M198 howitzer was widely used by the US Army to combat enemies. M198 was little bit big and also was heavy. Compared to M198 howitzer, M777 howitzer is lighter by 42% and also smaller in size. Titanium is used in M777 to make it lighter. Due to its lightweight and small size, M777 can be easily carried on trucks. USA uses MV-22 Osprey and CH-47 helicopters to move the M777 howitzers. Digital fire-control system is fitted in M777 for accurate and quick launching.