7th pay commission will be implemented for all central government employees except for defence personnel. Check out why Indian armed forces are not getting the increased pay as per the recommendations of 7th Pay Commission.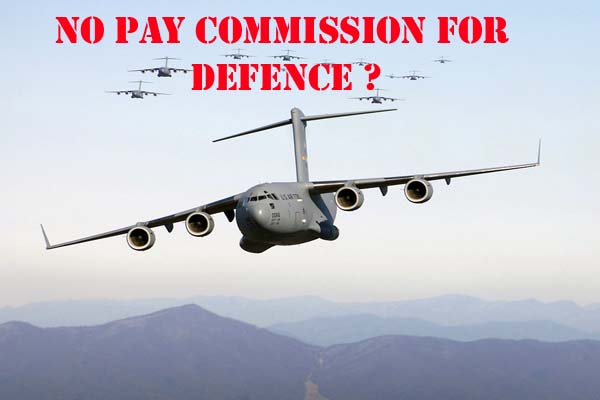 Much awaited 7th Pay Commission recommendations are accepted by the government and also orders have been issued to implement it vide notification.
All employees of central government will get hiked pay as well as arrears for basic pay in the salary of August 2016. It is a moment which is much awaited by all employees waiting for increase in pay.
While all the employees will enjoy the arrears and extra payment, defence personnel will have to wait little more to draw payment as per 7th Pay Commission.
IAF's Chief of Air Staff Air Chief Marshal Arup Raha has met defence minister Manohar Parikkar and conveyed concerns of Indian armed forces for the proposed 7th Pay Commission recommendations. Although majority of central government employees are not happy with the recommendations, defence personnel are the most disgruntled with the recommendations.
Earlier there was clear edge in the form of payment to defence forces when compared to their counter parts in the central government. This difference is continuously lowered by the previous commissions and also by the latest 7th Pay Commission too.
Now with the 7th Pay Commission implementation, defence officers are not even kept at par with their counterpart cadres. Over the time defence officers will be losers in terms of pay as there are very less vacancies exist in the armed forces.
Not only officers but also personnel below officer rank are also agitated over the recommendations where not even a single demand related to defence PBORs accepted by the government. The main contention of PBORs is about the Military Service Pay. MSP has been raised to 5200 from existing 2000 rupees (including DA it arrives at 4500). PBORs have been demanding since long that the MSP should be paid equal to all as the military hardship is same for one and all in the armed forces. On the contrary 7th Pay Commission has recommended 15500 rupees for officers, 10800 rupees for Military Nursing Services nurses, 5200 rupees for PBOR and 3600 rupees for Non Combatants of armed forces.
So there is a clear division of Military Service Pay as per the rank of the personnel. MSP is the new pay started by 6th Pay Commission to give some compensation to defence personnel who work in very harsh conditions as compared to other central government employees. Thus, MSP is a risk based pay and should be paid equally among all serving personnel is the say of all PBORs.
There were many other issues raised by the defence personnel in front of review committee where in defence minister himself has assured all defence personnel that the issues will be resolved in a positive way. All were taken aback when the government has announced that it is going to implement the actual recommendations recommended by the 7th Pay Commission Panel.
With this by keeping all defence personnel in view, Air Chief Marshal Arup Raha - Chief of Indian Air Force along with General Dalbir Singh Suhag - Chief of Indian Army and Admiral Sunil Lanba has met defence minister and conveyed dismay over the 7th Pay Commission recommendations.
Hope all personnel of Indian Army, Navy and Air Force will get the revised pay and arrears soon and also hope that their voice will be heard by the government.